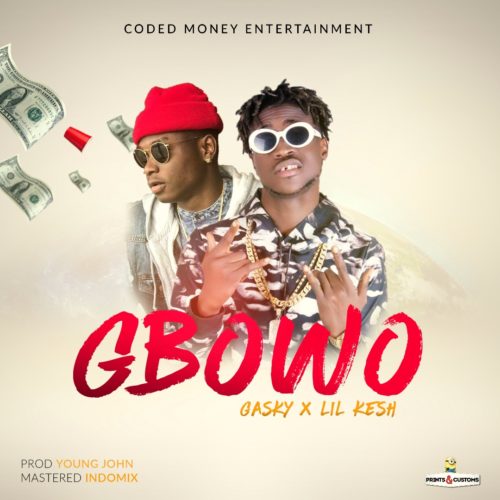 Coded Money Entertainment anchorman, Gasky commissions his debut offering of 2018 and it is a fierce that he titles "Gbowo." He scores the heavyweight feature of YAGI Boss, Lil Kesh.
The Warri rapper whose real name is Famous Stephen has been digging it through the trenches unto the upper echelons of the industry with such buzzing efforts including "Ibadi", "Oooouuuu", "Omo Kpeteru", "Old Warri", "Cut Am First" and several others.
However, with the roll of some of the industry's finest hands, he scores his best bow yet on "Gbowo" as he makes the uptempo and energetic vibe one that is about about the hustle, grind and some of life's finest things.
Plus, with the support of serial hitmaker and "Gbese" crooner, Lil Kesh, "Gbowo" is set become a mainstay on the airwaves, trends, social gigs and even the dance floors.
Gasky sought the production artistry of the very wicked producer, Young John, while "Gbowo" was mixed and mastered by sound engineer with a touch of difference, Indomix.
Do you need any further prodding before grabbing a dose of this latest banger? Simply stream, download, then share your thoughts and opinion in the comments section below