Last Updated on Jul 21, 2015 | 13:31 by Jim Donnett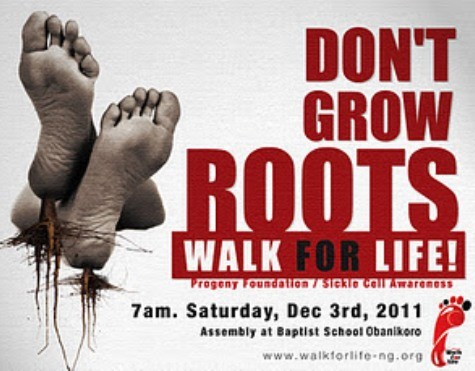 A lot of entertainment personalities have come out to show solidarity and support for Progeny's "WALK FOR LIFE", an event designed to create awareness about sickle cell anaemia. The burgeoning support from prominent celebrities is unprecedented which goes to show that a lot of public figures are now coming to grasps with how they can influence their society positively by supporting and promoting worthy causes.
WALK FOR LIFE, as the name implies is a walk which will take place on Saturday , the third of December from Obanikoro to Maryland. The walk commences at 7am from the Sheperdhill Baptist Church, Obanikoro. Progeny invites people from all walks of life to come and participate in this walk as it is to further sensitize the general populace about the sickle cell condition, how to guard against propagating it, how to dispell misconceptions about it and how to relieve and improve the quality of life of those who have the condition.
[youtube]http://www.youtube.com/watch?v=43ylCm-usuI[/youtube]