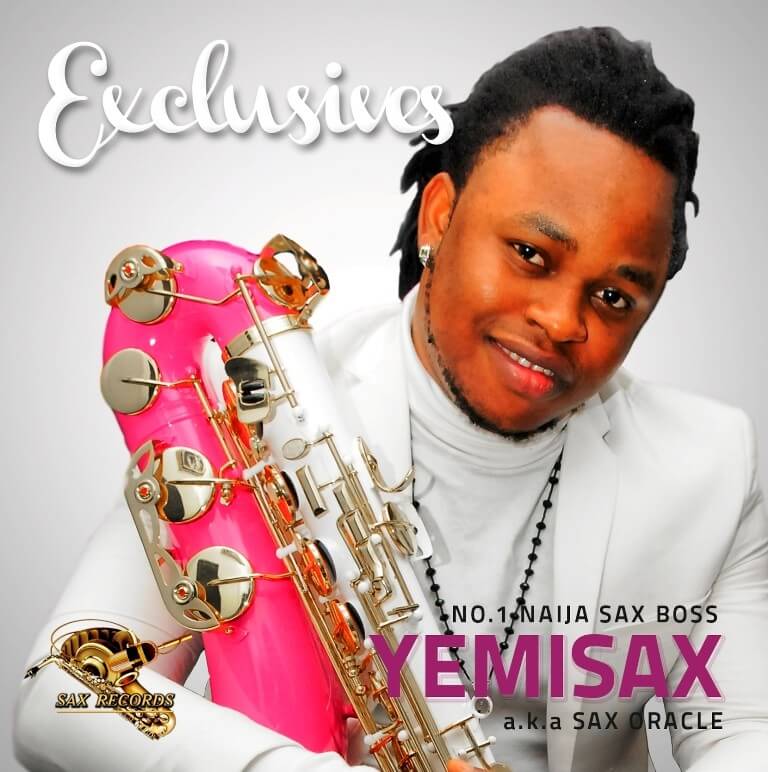 Multiple awards winning and renowned Nigeria saxophonist, Adeosun Adeyemi popularly known as YemiSax will today the 12th of November 2012 release into the market the highly anticipated Exclusives album after two mixtapes (Exclusives Vol 1& 2) earlier in the year.
The album which pull off major materials from the two Exclusives mixtapes boast of nineteen (19) tracks including the jazz remix to Tuface Idibia's hit song "Ihe Neme" Burna Boy's Like To Party and MayD's Ile Ijo. Other prominent tracks on the album include the Jazz remix to the club banging single "You Go Kill Me" by Ghanaian star artiste "Sakordie" and also one of South Africa most populous song "Lengoma"  originally by DJ Sbu ft Zahara.
Exclusives is YemiSax's fourth major studio effort after Flavour in 2005, Saxophone Mood in 2008 and Virtuoso Reloaded in 2010.
The album is produced by Yemisax a.k.a Sax Oracle and distributed worldwide by T.Joe Music for Sax Records. Here is YemiSax version of Ihe Neme by Tuface and the album full track listening….
DOWNLOAD
1.  Lengoma – YemiSax Remix (Original by Dj Sbu ft Zahara)
2.  Ara – YemiSax Remix (Original by Brymo)
3.  Kukere – YemiSax Remix (Original by Iyanya)
4.  Shake ur Bom Bom – YemiSax Remix (Original by Timaya)
5.  Dami Duro – YemiSax Remix (Original by Davido)
6.  Chop My Money – YemiSax Remix (Original by P-Square)
7.  Ile Ijo – YemiSax Remix (Original by May D)
8.  Like To Party – YemiSax Remix (Original by Burna Boy)
9.  Oliver Twist – YemiSax Remix (Original by D'Banj)
10.         Ash*wo – YemiSax Remix (Original by Flavour)
11.         Carolina – YemiSax Remix (Original by SauceKid ft Davido)
12.         Ihe Neme – YemiSax Remix (Original by Tuface Idibia)
13.         Gaga Crazy – YemiSax Remix (Original by Chuddy K)
14.         You Go Kill Me – YemiSax Remix (Original by Sakordie)
15.         Beautiful Oyinye – YemiSax Remix (Original by P- Square)
16.         NAwti NAwti – YemiSax Remix (Original by Olu Mainatain)
17.         Slow Whine – YemiSax Remix (Original by Wizkid ft Banky W)
18.         Roll – YemiSax Remix (Original by Rayce)
19.         Control – YemiSax Remix (Original by W4)