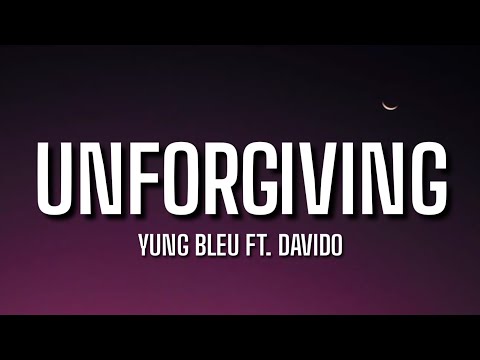 Lyrics for "Unforgiving" by Yung Bleu featuring Davido. Produced by Timothy Ruben Hidalgo & Adriel Toval.
"Unforgiving" is off the Moon Boy album by Yung Bleu, a track the Alabama rapper put Afrobeat melody maker Davido on, Check out the Lyrics below. Listen and sing along
LYRICS
If you would've known then what you know now
Baddest!
Would you change anything?
Oooh oh, back when we were young
We had the world in our hands
Back when you were young
You just didn't understand
That I'm so unforgiving
She ain't got no more feelings
She wanna leave
I fucked her best friend, yes, I made it easy
Put on a bullet proof vest, love ain't easy
Feel like a shot in the chest, I caught her cheating
That's why I got love scars, she left me bleeding
I took my heart, I gave it to the needy
I don't need no more hoes, I got greedy, greedy
Yeah
Back when we were young
We had the world in our hands
(Just think about it)
Back when you were young
(A few years ago)
You just didn't understand
(You never understood)
That I'm so unforgiving
Back when we were young
We had the world in our hands
Back when you were young
You just didn't understand
Davido
Back then
Back then I thought I found love
But now you're someone I used to know
Now, you askin' for one more chance
Omo yawa don gas
Oh, you were really young, huh?
Now we sittin' on a couple million
Droppin' filet mignon with Don Pérignon
Abu Dahbi on a G6, no carry on
Mm, but the money long
I'm goin' crazy, I ain't takin' no prisoners
Nobody with me, I beg you, don't take it personal
I'm goin' crazy, I ain't takin' no prisoners
Nobody, baby, I beg you, don't take it personal
If you don't, now you know
If you no know, now you know
It really ain't about you
Sometimes I think about you
('Bout you girl)
In case you don't, now you know
If you no know, now you know
It really ain't about you
Sometimes I think about you
('Bout you girl)
Yeah, hoping you'll understand