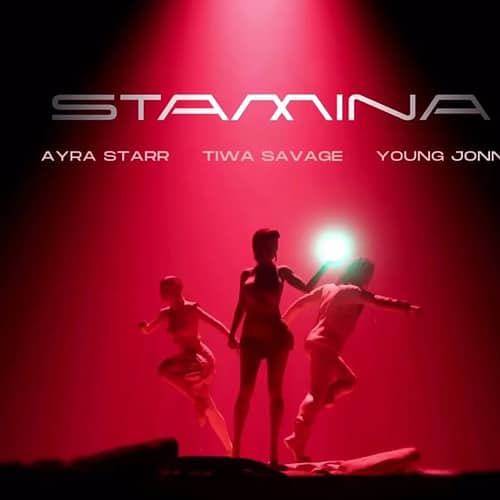 Stamina stamina
You go need more stamina
Oya raga mo mi now
Make I know say you cover me now
So many things I can do to you
If only you give me the permission to
Give me the permission to
Show you the thing I carry
Applaudise for you
Make I no lie o dun
Make I no lie o da mi lo ri ru
Cause I'm so into you
So many things I can do to you
If only you give me the permission to
Give me the permission to
Show you the thing I carry
Na you take my breath away
Omo one question sho fe pami
Live to fight another day
Live to fight another day
So many things I can do to you
If only you give me the permission to
Give me the permission to
Show you the thing I carry
Give me the permission to
Show you the thing I carry
See as I dey check calender
I no fit wait forever
Je ka se jiggy jagga
I'm charged up for you
Thank God for two
Sexy kunfu
Ready to do everything you like
I'll make your fire ignite
Until you see the sunlight
So ti mu ra sugar
You will be needing plenty
Stamina stamina
You go need more stamina
Oya raga mo mi now
Make I know say you cover me now
So many things I can do to you
If only you give me the permission to
Give me the permission to
Show you the thing I carry
Applaudise for you
Make I no lie o dun
Make I no lie o da mi lo ri ru
Cause I'm so into you
So many things I can do to you
If only you give me the permission to
Give me the permission to
Show you the thing I carry
Na you take my breath away
Omo one question sho fe pami
Live to fight another day
Live to fight another day
So many things I can do to you
If only you give me the permission to
Give me the permission to
Show you the thing I carry
Stamina' by Tiwa Savage: A Deep Dive into the lyrics
Stamina by Tiwa Savage ft Young Jonn and Ayra Starr is a classic ode to the trust and unwavering love that can exist between two people. It speaks of the comfort and security that a woman can give her man when everything else has failed. The lyrics highlight the importance of feeling accepted and appreciated, no matter the situation.
The song starts off with a declaration of how the woman has a "stamina" that no one else can match. Lyrics Tiwa Savage Stamina ft Young Jonn and Ayra Starr are quick to note that she is the only one who can "cool him down" and understand what he needs. It is this special connection that has kept their bond so strong. Tiwa Savage ft Young Jonn and Ayra Starr make it clear that no one else can truly understand them like she does, as if it is a secret only she knows.
The song progresses as Tiwa Savage ft Young Jonn and Ayra Starr emphasize the need for physical touch. They encourage the woman to grab their hands and lead them when needed, signalling that their connection is such that they can rely on and depend on each other. Tiwa Savage ft Young Jonn and Ayra Starr make it clear that they need this woman in their lives, and they are not ready to let her go.
In the chorus, the singers highlight the influence that this woman has over them. In the same breath, they express how they are no longer able to fight it as if her presence is so pervasive that it is impossible to resist. This demonstrates the level of trust and respects that Tiwa Savage ft Young Jonn and Ayra Starr have for this woman.
Delivery
The delivery of Tiwa Savage ft Young Jonn and Ayra Starr is quite remarkable. It cannot be understated how tranquil, beautiful and perfect their delivery was in the song "Stamina". Their voices were laced over the production expertly, which is what made the magic that is the track.
The song was so calm and pleasant that it was practically a blessing to the ears. Tiwa Savage's delivery was both strong and soft. It was as though she was conveying so many emotions with her voice, as she sang with the grace and conviction that she portrayed in her verse. Similarly, Young Jonn and Ayra Starr are both artists that induce emotion, and the pairing of their voices with Tiwa Savage's in this song was simply divine.
The production of the song was second to none – quite remarkable in how it blended the minimalistic elements to deliver a track that was bursting with soul. If this was not enough, the melody of the song was nothing short of captivating; it had a classic, vintage feel that was clearly very intentional.
The relatable lyrics of the hit song, Lyrics Tiwa Savage Stamina ft Young Jonn and Ayra Starr provides an atmosphere of safety and security for anyone who hears it. It is the perfect ode of love and admiration for any couple and encourages people to feel a greater connection to themselves and their partners.
The lyrics speak of two people who are willing to go through anything while standing by each other through the good and bad times. "Stamina" not only speaks of the fortitude of a relationship, but it also reassures listeners that they can be strong and brave in the face of any obstacle. The song serves as an anthem to couples who want to stay together and become closer and single people who crave and want that same kind of connection. The lyrics are so relatable, that anyone can easily sing along and feel a sense of comfort knowing that someone out there understands their struggle.
Replay Value
The replay value of a track lies in its ability to keep listeners coming back for more. Stamina's dancehall beat has this very quality. It's a combination of catchy and energetic beats that keep listeners moving and singing along. The sheer symphony of the rhythms and sounds of the beat adds to its replay value as well.
The delivery is also top-notch and reliable, no one ever tires of the same song because its delivery is almost like a story being told. It has a few brief pauses between each song which add an extra distinct element of suspense and anticipation.
Rating
Delivery: 1.7/2
Lyricism: 1.6/2
Mixing and Production: 1.5/2
Relatability: 1.7/2
Replay Value: 1.8/2
Total: 8.3/10