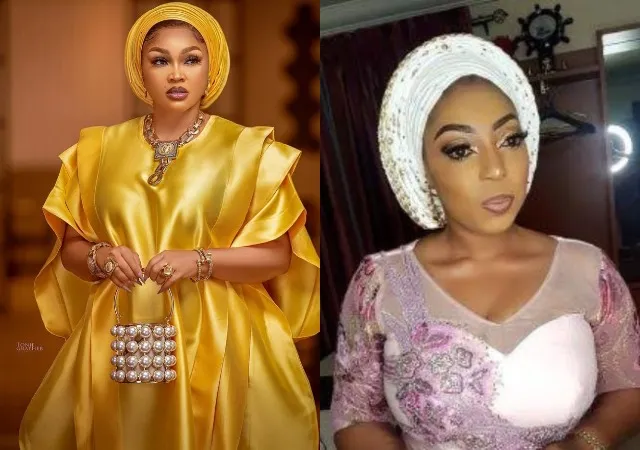 Instagram businesswoman, Lara Olukotun has finally shared what got her mad at Popular actress, Mercy Aigbe.
It will be recalled that Mercy Aigbe was spotted in a trading video, where she exchanged a few punches at an event with a businesswoman, who she claimed used to be her friend.
In a lengthy post, Mercy went on to reveal what actually went down at the scene. According to Mercy, Lara has waged social media wars against her for the longest time but she ignored her all along.
In a recent development, Lara has now shared what got her furious at her former friend.
As maintained by the businesswoman, Mercy got her furious when she started to call herself, "Aya D Owner", knowing fully well that the man – Adekaz is married and already has 4 kids.
She wrote;
MORNING TO EVERYONE
WHEN U HAVE NOTHIN TO COVER UP FOR, THERE WILL BE NO REASON TO RUN AROUND TO GIVE EXPLANATION, OR FRAME UP LIES TO COVER UP, TO SEEK PUBLIC PITTY
THE ONLY THING THAT WILL PROVOKE & TRIGGER ME IS IF U MERCY AIGBE LIE ON ME TO DO DAMAGE CONTROL & RUN UR MOUTH ANYHOW ON UR USELESS INTERVIEW OHHHHHH……
AM TRYIN MY BEST TO IGNORE NOT TO COME & START NARRATING HOW 2 ADULT FOUGHT BOTH ACTIVELY COMITTED D SAME AGGRESSIVE BEHAVIOUR & BOTH WERE WRONG BUT ONE WAS CAUGHT ON CAMERA, & D OTHER DIDNT & D U GOT D REAL ME B4 DEY TOOK U OUT… …… I TOOK MY CRITICS, LEARNT ON MY MISTAKE, & STAND TO BE CORRECTED FROM PUBLIC PPLE TOO OHH ……
DO UR USELESS EJOOR OFO INTERVIEW IN PEACE WIT NO LIES TO COVER UP OHH, D DISGUSTING PART OF UR LIFE MERCY AIGBE IS THIS USELESS 2FACE ABOSI LIFE, ALWAYS ACTING LIKE A VICTIM TO D PUBLIC & SHOWING UR DEVLISH PART BEHIND CLOSE DOOR, ANYONE CAN BUY UR DRAMA, THAT NOT MY BUSINESS BUT DONT PLAY WITH ME OHH …
U KNOW THIS UR EJOOOR WEWE OSHI INTERVIEW IS WHAT BROUGHT UR MARRIAGE DRAMA TO D PUBLIC THAT MADE INDIVIDUALTO GIVE DIFFERENT OPINION, & FOR THE RECORD & CLARIFICATION U MARRYING SOME1'S HUSBAND IS NOT MY PROBLEM NOR MY HEADACHE..
UR AUDACITY TO DISRESPECT & SHOW OFF & DISPLAY DIFFERENT INDIRECT SIGNAL, MEN MIGHT NOT UNDERSTAND WOMEN "ETE & ABOSI, INDISGUISE" , BUT ALL WOMEN KNOW & WE KNOW OURSELVES IN "PEPPER DEM GAME" ,
U KEPT ON DARING D OTHER WOMAN ON WHAT CAN SHE DO & CALLYN UR SELF "AYA D OWNER" THE HUSBAND THAT BELONG TO ANOTHER WOMAN THAT HAS 4KIDS FOR D SAME MAN U MARRIED IS WHAT I STOOD AGAINST & IF THAT IS MY CRIME TO AV OFFENDED SOME PPLE, I SAY IT HERE PUBLICLY AM NOT SORRY, & ALSO FOR D RECORD BECOS MANY PPLE ALWAYS REFFER TO K1 MARRIAGE THAT I TOOK SIDE, I WAS NOT AWARE THAT BOTH WOMEN HAD A BRIEF RELATIONSHIP UNTIL AFTER D WEDDING & I REACHED OUT TO TITI AND MORE THINGS WERE CLEARED TO ME, & I GAVE MY APOLOGY….
I AM NOT A SUPPORTER OF A BROKEN HOME & MARRIAGE.
SO PLS PUBLIC OPINION IS ALLOWED, BUT PPLE SHOULD VERIFY ON ISSUES B4 GIVIN UR OPINION, EVERYTHING U SEE ON SOCIAL MEDIA IS NOT ALWAYS EXACTLY D WAY IT IS, DONT FORGET THAT…….. MAY U ALL AV A BLESSED DAY CASE CLOSE.
See post:
View this post on Instagram