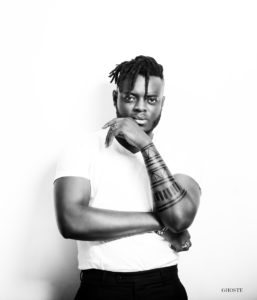 Super talented artist Yung L has over the years perfected his craft of music making and gained love from people to build his dedicated fan base.
Known for his unique voice and music style, his debut album "Better Late Than Never" was released in October last year and has gathered momentum on both radio and television across/outside the country. Since the release, Yung L has released numerous videos including "Cheers", "Gbewa" & "Pressure" to mention a few.
The CBN creative director recently had some health challenges when he was recently diagnosed with spontaneous bacterial peritonitis, which is a long standing typhoid with some contained intestinal perforations. He took time to explain how this made him re-evalute his commitment to family and health care.
Yung L teams up with ace video director, Clarence Peters to create what is tagged the video of the year for his song "ANYA". The song "ANYA" is inspired by the beauty of the black woman and it is scheduled for release tomorrow, May 11th, 2018.
In the words of Marva Collins, "Trust yourself. Think for yourself. Act for yourself. Speak for yourself. Be yourself. Imitation is suicide." Being born a black woman is a beautiful life experience that should be embraced with the joy of womanhood naturally and not frowned upon.
"A black woman always stands out for me" – Yung L
FACTS ABOUT ANYA.
ANYA video was shot by Clarence Peters in Lagos, Nigeria
ANYA video would be live on YouTube from 

12:00pm

 

tomorrow (May 11th, 2018)

ANYA video is Yung L's 4th video from the 'Better Late Than Never' album
ANYA video is inspired by the beauty of the black woman.