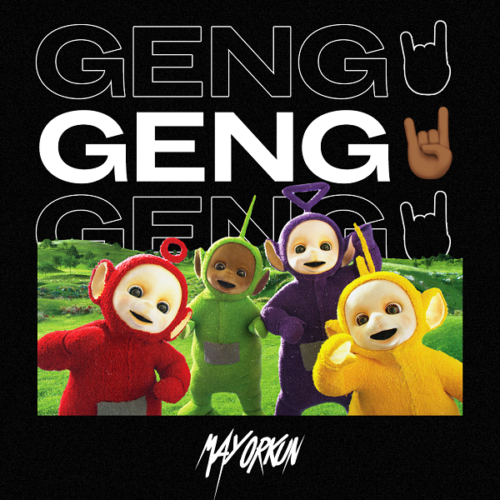 Afro-pop superstar Mayorkun kicked off the year with this blazing anthemic single titled "Geng". At first many were like why is Mayorkun experimenting (Changing sound) ?, what is he trying to achieve with this average record?, It's a No,No, I don't like this song….(Skip) Next. But different is the case now as this addictive Anthemic song 'Geng' has captivated everyone and moved to the Top Spot on music charts.
Even at Tooxclusive some of us were not of the new vibe, but now it has turned a major for us. Check out what some of our members said about the record initially and what they rated 'Geng' when it first dropped.
Mayorkun's "Geng" more of like distracting fans at the beginning of the year no doubt. He delivered surprisingly okay and flowed with the beat making fans see another side of him that's not so "Posh". It's the sort of music one listens to when hanging out with the "Geng" or at a party.
Nice concept Mayor. However, the entire track was totally unnecessary and I believe it should not have been released as a real song. Mayorkun needs to understand that he doesn't need to join the trend of making "not so serious" music- leave it to the professionals.
He has already established his name as an entertainer that constantly drops meaningful hits and this track I believe has given him a dent to his stainless record.
The track would continue to receive more attention because of the many artistes that have made covers to it (quite similar to Skiibii's 'Daz how Stars Do') and its vibe which is really dope. But in all honesty, it's the regular stuff we get forced to feed on – No direction, repetitive lines, and no melody.
At first i didn't really like the song but later found it amazing when different artistes jumped on it, dropping different vibe and flow. I looked forward to hearing more covers than the song itself. It's that terrible. Please sir Mayorkun, continue to give us hits like you always do.
Rating 5/10 by Bimpe.
I really am not sure of what i feel about this song. Sometimes i am in the mood to listen to it and other times i am quick to skip when it plays while listening to my music player. I Just think it's a song that was born out of a certain mood and not one that was created to have an influence. And for that reason, i would say it's a decent trail.
It is not spectacular, it is not a genius creation but it is one that justifies its unplanned and sudden decision to be thrown to the public. Not A Bad One….
Rating 6/10 by Oluwafemi Taiwo
Mayorkun dished out a blazing anthemic single titled "Geng". Firstly, it was good to see Mayorkun on this kind of record. Actually this is not the regular TMOL we used to know, judging from the look of his previous records. Mayorkun, giving us another term in pronouncing the word "Gang", calling it "Geng" in his own term. Basically he made the song to dissed those fake Niggas living fake life just for publicity sakes, The Mayor Of Lagos passed a message across to them through his lyric.
No matter your reservations about the song or what it alludes to, you can't help but admit to the infectious hook and join in screaming "Geng, Geng, Geng" along with him.
Mayorkun transformed his style of music, singing like an American. I just couldn't notice on time that it was actually Mayorkun pulling this kind of vibe as i was carried away with the flows. This record could have turned out much better if only he had featured an American artiste or a Nigerian rapper that has the US Gangster vibe to blend up the flows. Hopefully Mayorkun might come up with the remix and get a rapper to Grace it. 
Rating 6/10 by Adenuga Adewale
---