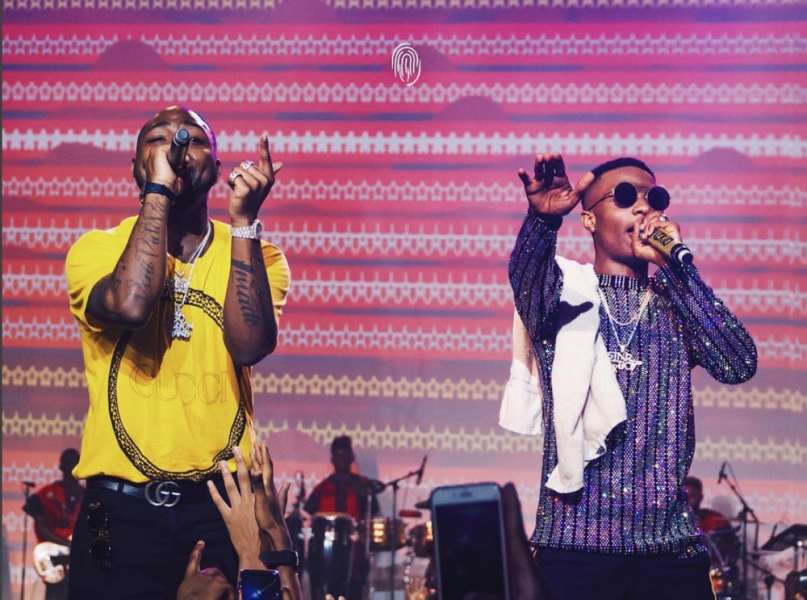 Wizkid stans have risen in large numbers to slam Davido after he claimed to be bigger than their fav.
The drama started when a Wizkid stan accused the singer of buying views on youtube for his latest music video, "FEM". Davido had responded saying he was bigger than his fav and even after the fan proudly stated that his fav(Wizkid) is the biggest, Davido came back to restate that he was the bigger artsite.
Davido stans launched the #DavidoisBigger to back up their fav but the Wizkid stans were not having it. Known to be ruthless and loyal to their music star, they dragged Davido for his statement.
See some of the reactions below:
Lol, Davido came here to parade his stupidity claiming he's bigger than Wizkid, but guess who's on the trend list? The King Himself. Even without saying a word. When you're BIG, you're BIG. STARBOY THE GOAT.

— If my tweet pain you, drink sniper ? (@Sakpo007) September 14, 2020
Wizkid ayo Balogun isint the biggest Artist ever by just mere words or mouth. His dicorgarphy is everything artists out there would pray for. His dicorgarphy/ brand is way too big for any of ur fav ????? pic.twitter.com/jQScILHWeW

— /\/\|) ? (@MDee_01) September 14, 2020
Davido has close to 20 Million IG Followers and over 7M Twitter Followers yet this Fraud can't promote his craft without chasing clout. Can Never be my WIZKID, GOAT.

— If my tweet pain you, drink sniper ? (@Sakpo007) September 14, 2020
Wizkid no Dey brag about his success
Wizkid no Dey talk too much
Wizkid no Dey post his achievements

His silence and success Dey k*ll some people lowkey sha??

— Mally? (@1Mally_) September 14, 2020
When wizkid was announced as Global ciroc ambassador, davido and that big head cubana faked henessy deal.

Forgetting henessy na wizkid throwback. You will remain pressed over wizkid for life o ????

— /\/\|) ? (@MDee_01) September 14, 2020
Davido is stalking Wizkid fc and replying to a tweet that he was not tag just to chase clout, can never be my mcm Wizkid.

— If my tweet pain you drink otapiapia and Pepsi ? (@Skeppy1586) September 14, 2020
Davidoe dey shout na Wizkid wey don forget his Twitter password dey trend. ??

— LERE BOY (@Zsauceboi) September 14, 2020
davido acts like he's the only nigerian act that is a cultist. even burna boy wey be senior axe man nor carry cultism for head like this. davido is too loud for someone who joined a confraternity cult in 2017 because of the beef he had with wizkid that year.

— Daddy GeeHoe (@JrAnthoony_) September 14, 2020
Wizkid is wicked. Davido tagged him more than 5 times…Wiz refused to reply…that's why he's angry at FC???

Let's be sincere, if it's me too it will pain me??

— SelfLove?? (@Ms_Fej) September 14, 2020
Wizkid made only a single post on IG about Made In Lagos…Davido came straight to Twitter to find a way to trend??!!

He should better stick to Burna's advice of dropping singles?

— SelfLove?? (@Ms_Fej) September 14, 2020
Davido responds to Wizkid fans more than Wizkid himself ??

— fela (@Deji4PF) September 14, 2020
Burna Boy & Wizkid probably in London smoking and watching this boy embarrass himself ?

— Sean (@Muyiwaaa_) September 14, 2020
Wizkid's silence getting Davido pressed. Man went on Clout Vacation resume back with Clout.

— LERE BOY (@Zsauceboi) September 14, 2020
At this point, this battle is not even between the artistes, it's between Davido and Wizkid FC

— Iseunife The First (@Shawnifee) September 14, 2020