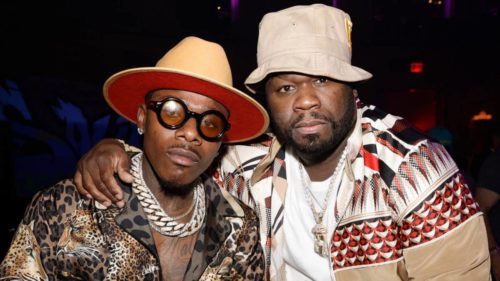 It is no longer news that 50 Cent has been mentoring DaBaby for a while now, and has reacted to his latest scandal, blaming it on the fact that he had no publicist nor media training.
About 3 weeks ago, Baby suffered a massive fallout following his comments about HIV/AIds, as well as, the LGBTQ community. Baby lost endorsement deals, was kicked off major festivals such as Lollapalooza 2021 and Day N Vegas, and faced heavy backlash from celebrities such as Madonna, Elton John, and The Roots' Questlove.
50 said, He is a really talented, special artist, right?" Fif began. "And he just transitioned from being in that pool that everyone's in as a Rap artist. Like, they didn't notify him that he's turning into a superstar.
There's nobody that tells you, 'Now, you're held to these standards,' that are mainstream standards that you can't say things and you can't do these different things.
He didn't have a publicist involved and this is why the response took so long. Even his apology, the first apology attempt at it, was what made it worse. You know what it is? When a person makes a general statement, 'cause he made a general statement on stage, he's not directing that to any individual, but what happens is he's still new and he's being attacked by individuals.
He's only two years into his career. There's no artist development. There's no strong A&R in this. There's definitely no media training. Remember they tried to cancel Chris Brown five or six times.
Despite two apologies, DaBaby's reputation has undoubtedly taken a hit. But 50 Cent isn't convinced his career is over, as much as cancel culture would presumably like that.