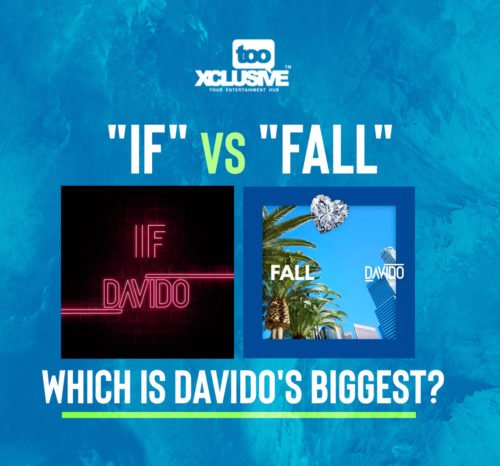 Davido released "IF" & "Fall" in February and June of 2018 respectively and these two songs turned out to be major African hits. Both songs have been able to achieve massive levels of unit sales both in Africa and outside Africa. While both songs have done well in the past and still trending, many music fans believe "IF" is a bigger song to "Fall" due to the breakthrough it had across the Atlantic. But the recent rave that "Fall" is currently enjoying in the US has now brought some sort of confusion on which could be the bigger song.
There would be a brief insight to the two songs below, and we hope you can help us decide which is the bigger song.
"IF"
This song was released in the month of February of 2017, and it was the first single Davido dropped since returning to Nigeria from US where he had issues with Sony music modifying his sound. After the release of "IF", it became an instant hit in Nigeria and Africa. It didn't even take long before it crept into the US and Europe as there were online footage of various American superstars vibing to the song.
It also caught the attention of controversial US singer, R.Kelly, to the extent that he had to remix the song and as well as send various shout-outs to Davido on different social media platform for creating such a monster jam. The line "30 billion for the account" in the song became a pop culture in Africa, and even both the elderly and young ones got stuck to the song due to it's hypnotic sound and banging beat.
"IF" even went Diamond in sale (i.e. 10 times the sales of Platinum).
"Fall"
The growth of this record in the past one year has been really phenomenal. "Fall" was released by Davido in June of 2017 and like "If," it became an instant hit as well, spreading it's reach across Nigeria to other African countries. Just like its predecessor, it lyrics became a pop culture in Nigeria, Africa and now other parts of the world. "The banana fall on you" line is a statement that has now been adopted by a lot of people to address certain situations.
"Fall" is currently the most viewed music Video by a Nigerian musician on YouTube (107 million views as at 22/01/2019) and recent reports have it that it is now currently the most played Afro-Beats song on US Radio. New York, Hot 97 has been reported to play it 125 times a week which is a phenomenal achievement for an African song.
"Fall" went Platinum in sales (1,000,000) last year.
With a summary of the achievements of the two songs put above "IF" is bigger but due to the recent streams and rave of "Fall" some think the latter is bigger, which do you think is Davido's biggest song between "IF" and "Fall"?
Drop your comments in the section below.

""IF" Vs "Fall" – Which Is Davido's Biggest?", 5 out of 5 based on 1 ratings.
---