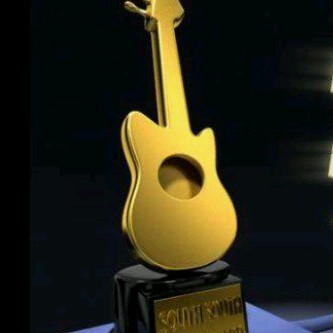 The Annual South South Music Awards is organized by Lockdown Entertainment to reward excellence and celebrate creativity. It is a view of the Nigerian Music Industry from the South South perspective. Andy Bello is the brain behind the South South Music Award and the C.E.O of LockDown Entertainment.
Date: 4th December 2011
Venue: Oba Akenzua Cultural Center, Airport Road, G.R.A. Benin City, Edo State.
Twitter: @AndyBello @ssmafact
NOMININEES FOR SSMA 2011
1. BEST R N' B (MALE)
1. Mentol – direction
2. Fresh Kid – love u better
3. Jazzy Jones – i really love you
4. Rem T – fine boy
5. Meshack – feeling inside
2. BEST NEW ARTSITE
1. Fresh Kid – love u better
2. Shiney – friday (do anyhow)
3. Yhuki – omo oba
4. Natural – ego
5. 0ne Touch – reformat
3. BEST R N' B (FEMALE)
1. Bella – glow
2. Lilly White – turn my head
3. Eva – better than her
4. De Quiz – happy day
5. Amira Diva – sweet mother
4. BEST REGGAE /DANCEHALL
1. Don Smarter – be mine forever
2. Dovetail – hirae
3. Triggarman – rock fi life
4. Jacky Sula – believe
5. Squeeze – hot
5. BEST COLLABORATION
1. Yhuki ft HiBreed & LaBrainz – omo oba
2. Wizboyy ft Slim Brown – infinity
3. Uptown ft O'Black – omo toh bad
4. Don Ziggy ft Olamide – be my baby
5. Bigg Splash ft Durella – ozikpalor
6. BEST GOSPEL (MALE)
1. Don Ziggy – God dey
2. BNG – carry weight
3. Victor Atenaga – Jehova is blessing
4. Godwin Idios – this life
5. Franchize – prayer
7. BEST HIP HOP
1. Black I.Q. – watch me blow
2. Bigg Splash – ozikpalor
3. One Touch – reformat
4. S.D. Awango – gbemi mora
5. Yung Hanz – 6ft 7ft
8. BEST GOSPEL (FEMALE)
1. Sophy Adas – oghomwen se oghogho
2. Joan Paul – ikhayere
3. Liora  – see how you love me
4. Anny – na time
9. MOST POPULAR (NON INDEGENOUS)
1. Tuface – be there
2. D'Banj – mr endowed
3. Ice Prince – superstar
4. Terry G – akpako
5. Tha Suspect – i know send u (female)
10. BEST USE OF CHOREOGRAPHY
1.Cyrax – tingolo
2. Maleke – 50 50
3. BNG -carry weight
4. Harrysong – fire
5. S.D. Awango – gbemi mora
11. BEST NEW ARTISTE IN DIASPORA
1. Dj Jeff – gele gele
2. TXco  – just like dat
3. Z Ace -without your love
4. Ugi – money
5. Federalman – one naija
12. MOST POPULAR ARTISTE IN DIASPORA
1. Teddy Ziggy – ovbiesan
2. Manfesto – woman of my dreams
3. Spicevision – edo dynasty
4. Don Ziggy – be my baby
5. DJ Jeff  – gele gele
13. BEST HIGHLIFE
1. Wizboyy – infinity
2. Natural – ego
3. Black I.Q. – emu ijo jo
4. Spicevision – my darling
5. Waconzy – too much money
14. BEST POP (SOLO)
1. J Martins – good tym
2. Kas – fimile
3. Solid Star – one man, one vote
4. Maleke – no bother
5. Meshack – like dat booty
5. BEST VOCAL PERFORMANCE
1. Maleke – ewole
2. Meshack – feeling inside
3. Liora – see how you love me
4. Eva – better than her
5. BNG – cold day
16. BEST POP (DOU/GROUP)
1. Free & Kayze – kolobi
2. BNG -cold day
3. Hooded Knights – sharwama
4. Baizewon – chinkolo love
5. Ever Right – jangolova
17. BEST LYRICS
1. Maleke – no bother
2. One Touch – reformat
3. Meshack – feeling inside
4. BNG – cold day
5. Yhuki – omo oba
18. BEST PRODUCER
1. Ray X for Mr Biggsplash – ozikpalor
2. Kul J for Maleke – 50 50
3. Redlight for Black IQ – emu ijo jo
4. Patrick for BNG – carry weight
5. Rem T for Rem T – fine boy
19. BEST DIRECTOR
1. Rock Videomagic for Rem T – fine boy
2. Whitehouse for Maleke – 50 50
3. Xcross for Spicevision – my darling
4. Ajayi Scenelock for Jazzy Jones – i really love you
5. ABD for Amira Vida – sweet mother
20. VIDEO OF THE YEAR
1. Maleke – 50 50
2. Yhuki – omo oba
3. Rem T – fine boy
4. Spicevision – my darling
5. Jazzy Jones – i really love you