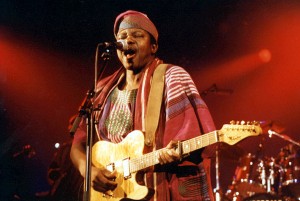 "King" Sunny Adé (born Sunday Adeniyi, September 22, 1946) is a popular performer of Yoruba Nigerian jùjú music and a pioneer of modern world music. He has been classed as one of the most influential musicians of all time.
Adé was born to a Nigerian royal family in Ondo, thus making him an Omoba of the Yoruba people.[2][3] His father was a church organist, while his mother was a trader. Adé left grammar school in Ondo under the pretense of going to the University of Lagos. There, in Lagos, his mercurial musical career started.
Sunny Adé's musical sound has evolved from the early days. His career began with Moses Olaiya's Federal Rhythm Dandies, a highlife band. He left to form a new band, The Green Spots, in 1967. Over the years, for various reasons ranging from changes in his music to business concerns, Sunny Adé's band changed its name several times, first to African Beats and then to Golden Mercury.
List Of Songs Released