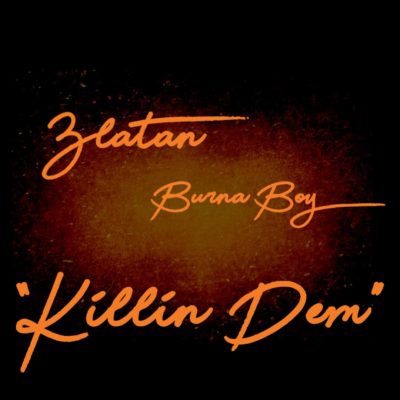 This is one of those collaborations nobody was expecting. They managed to blend their sounds together, Afro-fusion obviously from Burna Boy and hip hop from Zlatan coupled with some local instruments in the background, giving an overall balanced and pleasant sound. Not forgetting to mention that it made maaad sense.
It is a song about how talented they are, hence, the "killin' dem" phrase. The lyrics of the song is in different languages which speak to many but at the same time, one can get lost whilst trying to understand it. No real depth. At a point, it was starting to sound too repetitive.
Burna Boy is the gift that keeps on giving,as he teams up with Zlatan to deliver another banging single the highly anticipated, "Killin Dem". Overall, Burna boy and Zlatan KILLIN DEM is a great song you can dance to using any dance step.
Quotable Lyrics:
Oya who dey, who dey who dey who dey?
Zlatan Ibile, Burna lewon lere
Won m'ogun pe l'efo won lo mu mi sere Won gun yan mi kere nisin mo fimu won fan fere
Oya Halle, Hallelujah, rap yi ta lenuse bi ti suya
Ma jeko ya e lenu ti ba lo ra beamer Able God lasan legbo te lo n sina
K'eku le lo so fun toko toko, mo ti wole ko ma need ti n ba dibo
Kapachumaremanechupako, eruku ni mo ba to
Mo gbe zanku wole, mo ni ko fade shaku shaku
Ise yen killing them sha
Because I swear God the vibe go killin dem pa
Kpro kpro kpro, we go dey wound them like that
Oga boss make I no be abeleja eh eh eh
Yanyan o, yanyan o
Back in the days dem dey use me to yanyan o yanyan o
What's on my wrist, on my neck e be daya o, daya o
I no dey look uche, I dey denge o, Pele o ahn ahn

"Burna Boy – "Killin Dem" ft. Zlatan", 5 out of 5 based on 2 ratings.
---