Last Updated on Aug 17, 2022 | 06:01 by Tommy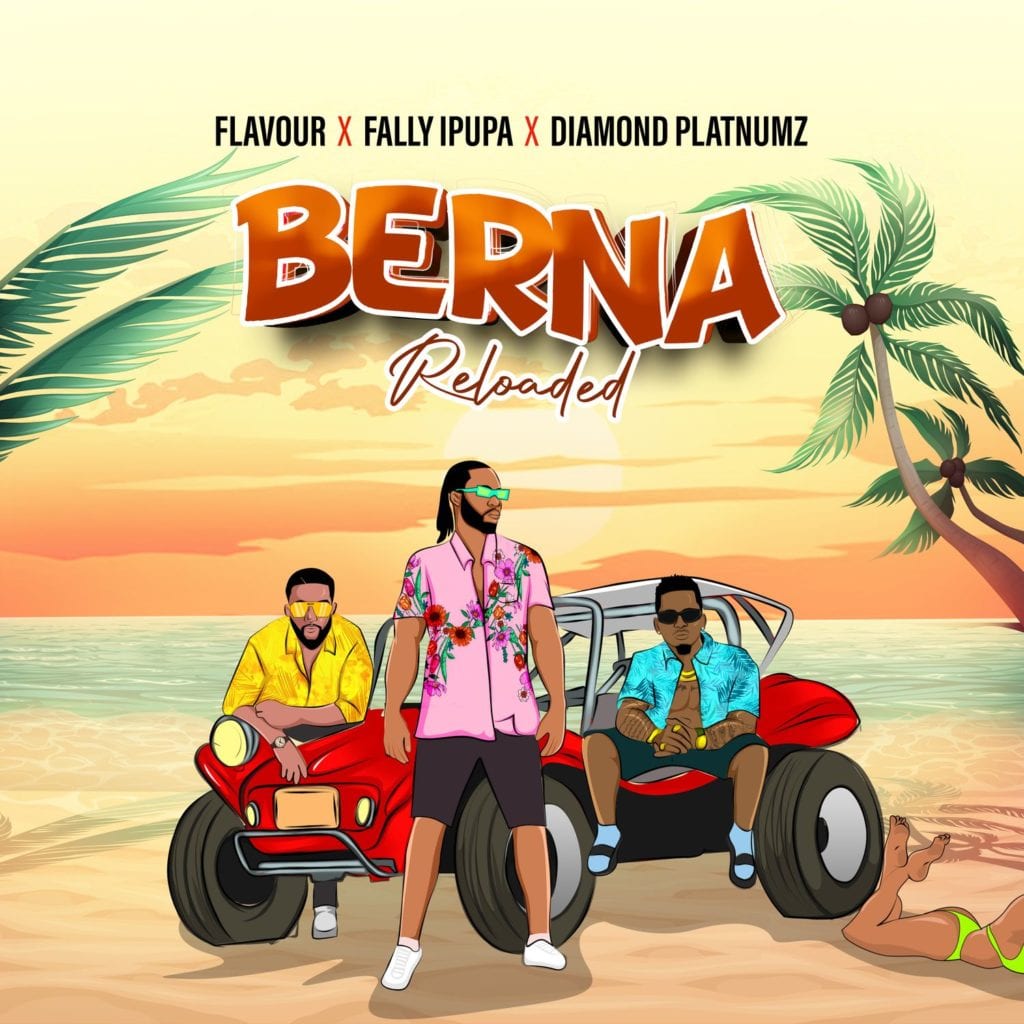 Flavour serves fans with "Berna Reloaded", he takes music listeners to Congo, Tanzania and back to Nigeria.
Berna Reloaded by Flavour features Congolese award-winning singer Fally Ipupa and King of Bongo Flava, Diamond Platnumz. The song is a remix of one of the tracks off the "Flavour of Africa" album.
Listen!!!
LYRICS
Wasafi (Masta)
Berna, Berna
(Original Mr Flavour)
Berna baby see as you fine o
Berna baby see as you fresh o
Na only monkey go say you no fine Berna
Fire baby buru bia le eh
Kirikata kirikata mama eh
Dance for mummy and dada eh
Don't be shy to show brother eh
Wetin your waist oh can cause oh
Okirikata mama eh
Ife bukwa na ukwu bu uma a eh
Onye eze *** ukwu eh
Nwa na a gbakalam isi eh
Bia lee (oh oh oh)
Bia lee (oh oh oh)
Unu bia lee (oh oh oh)
Nwa nke e gbuom (oh oh oh)
Oya shake shake mama (oh oh oh)
Oya rock rock mama (oh oh oh)
Oya walk walk mama (oh oh oh)
Nwa nke e gbuom (oh oh oh)
[Fally Ipupa]
*****
Kirikata kirikata mama eh
Dance for mummy and dada eh
Don't be shy to show brother eh
Wetin your waist o can cause o
Okirikata mama eh
Ife bukwa na ukwu bu uma a eh
Onye eze *** ukwu eh
Nwa na a gbakalam isi
Bia lee (oh oh oh)
Bia lee (oh oh oh)
Unu bia lee (oh oh oh)
Nwa nke e gbuom (oh oh oh )
Oya shake shake mama (oh oh oh)
Oya rock rock mama (oh oh oh)
Oya walk walk mama (oh oh oh)
Nwa nke e gbuom (oh oh oh)
[Diamond Platnumz]
Oya nyie tekenya Nyeta
Mwasi kitoko kanya (Nyata)
Oya mwata ka ma, mata
Shika kidogo kama (Mata)
Mtoto kaulilia (Nampa wembe)
Ameutaka (Nampa wembe)
Eh mwache atasimulia (Nampa wembe)
Ukimkata (Nampa wembe)
Asa shika bana (Kushoto kulia)
Asa ah shi, ah shi (Kushoto kulia)
Shika vyote (Kushoto kulia)
Eh kushi ashi (Kushoto kulia)
Eeh, aah…
Eh kirikata kirikata mama eh
Ah dance for mummy and dada eh
Don't be shy to show brother eh
Wetin your waist o can cause o
Ah kirikata mama eh
Ah dance for mama eh, papa eh
Na kama akiringa achana naye
Utapata mwingine baadaye
Bia lee (oh oh oh)
Bia lee (oh oh oh)
Unu bia lee (oh oh oh)
Nwa nke e gbuom (oh oh)
Oya shake shake mama (oh oh oh)
Oya rock rock mama (oh oh oh)
Oya walk walk mama (oh oh oh)
Nwa nke e gbuom (oh oh oh)
Original Mr Flavour on the dancefloor
They don't know, Fally Ipupa
Simba master master master
Hehe Oyorima, original, dunno
(Mix Monster) Don