Last Updated on Jun 6, 2022 | 23:04 by Marcus Brown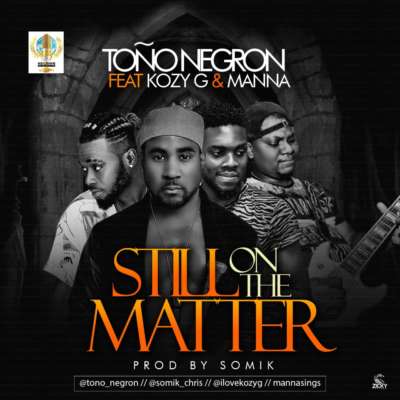 This collaboration is truly an international connection!!Toño Negron from Negron World (record label) ventured all the way from Seattle Washington in the USA to Nigeria in search of some incredible talent and that is exactly what he found in three young artists by the names of Kozy G, Manna and Somik, who is an artist/producer.
They've now put their talented minds together to bring to the world their new hit song entitled "Still On The Matter" which is now taking the airwaves by storm. They say they are "just warming up" and that we can expect tons more as they are hard at work cooking up plenty of solid tunes for our listening pleasure. Toño Negron, Kozy G, Manna and Somik; we salute you all and celebrate your success. We're anxious to hear more.
Toño Negron – "Still On The Matter" ft. Kozy G, Manna & Somik 
Twitter – @TonyoNegron @iLovekozyG @mannasings @somikmusic