Last Updated on Aug 4, 2022 | 21:14 by Tommy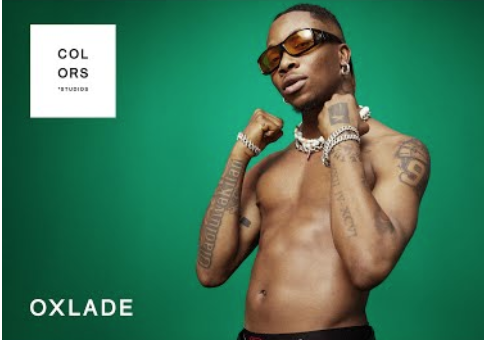 Here's KU LO SA Lyrics and Official Lyric Video, Song Written by Oxlade.
Due to popular demand we present Lyrics to the Summer Anthem, "Ku Lo Sa" performed by OXLADE on COLORS…. Enjoy the Lyrics and Correct some of your mistakes.
KU LO SA LYRICS
Verse 1
So many reasons wey I wan de for you my love
Na you I want to retire with my love
See All the li ku ku things you do de make me Nono
Oh Nono
This distance is taking a hold of me for sure
Baby come
Chorus
KU LO SA ( closer )
I want make we de
KULOSA ( closer )
Girl I want make you
KU LO SA ( closer )
I for like make you
PULL OVER
KU LO SA O ( closer )
Omo I want make we de
KU LO SA ( closer )
Girl I want make you
KU LO SA ( closer )
I for like make you
PULL OVER
KU LO SA O (closer)
Verse 2
Sheybi na this kind of thing wey de make man see yawa
SEE YAWA
And me I understand say your dad no like me Rara
ME RARA
See I want make you know say me dey for you guarra
GURANTEE O
and if the price be that I for like to see yawa
SEE YAWA
I never trade you for nothing
This love making me de stunting
Without you I no fit do nothing
Omoge tell me what's up gannn
I never trade you for nothing
This love making me de stunting
Without you I no fit do nothing
Omoge tell me what's up gannn
Chorus
KU LO SA ( closer )
I want make we de
KU LO SA ( closer )
Girl I want make you
KU LO SA ( closer )
I for like make you
PULL OVER
KU LO SA O ( closer )
Omo I want make we de
KU LO SA ( closer )
Girl I want make you
KU LO SA ( closer )
I for like make you
PULL OVER
KU LO SA O ( closer )
Bridge
I never trade you for nothing
This love making me de stunting
Without you I no fit do nothing
Omoge tell me what's up gannn
I never trade you for nothing
KU LO SA ( closer )
This love making me de stunting
KU LO SA ( closer )
Without you I no fit do nothing
PULL OVER ( closer )
Omoge tell me what's up gannn
KU LO SA ( closer )
KU LO SA ( closer )
KU LO SA ( closer )
PULL OVER
KU LO SA