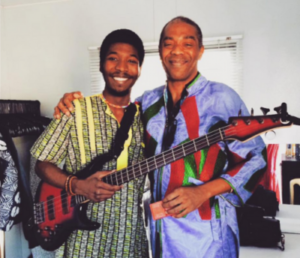 Femi Kuti brought out his eldest son to perform with him on stage at the Global Citizen first in South Africa on Saturday.
Femi who brought back memories of Fela with his expertise at using the saxophone, thrilled the amazing audience that were fully packed inside the FNB Stadium.
While hypnotising the audience with the sonorous output from playing the saxophone, the baba 70's eldest son deemed it fit to bring also into the realm of the moment his own eldest son; Made Kuti, who joined his father to make the tribute to the great African leader, Nelson Mandela, a memorable one.
Watch Video: