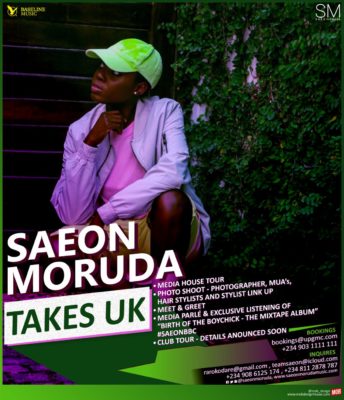 The #BoyChick SAEON MORUDA with the #87Swags will be in the U.K. all through March to promote her music starting with a Remix of her hit single #Aii which should be out by the top of the month, and following up with a soft release of her first ever body of work as a Femcee and Singer titled "Birth of the #BoyChick – The Mixtape Album". Safe to say we can start hashtagging away with #SAEONBBC.
AII REMIX TOUR
If you happen to be a Photographer, Clothes Stylist, Natural Hair Stylist and Make Up Artist in the U.K. with an artistic mind, SAEON MORUDA is looking to work with you. Link up #BoyChick via social media @SAEONMORUDA or email [email protected]
Other activities including a meet & greet, club tour and gigs will be announced via her social media so hit that follow button to stay updated.
Download #Aii
(https://itun.es/ng/wg7zfb)
(http://soundcloud.com/saeonmoruda/aii)