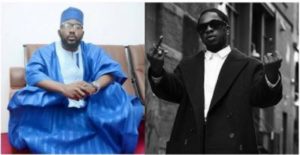 The legal battle between Runtown and his record label, Eric Many Records, is not over, according to reports.
The general manager of the label, Johnson Adumike has reacted to a post by Runtown on his Instagram stories hinting at a possible collaboration with Wizkid.
According to the report, Johnson was contacted to make clarifications on the legal action taken by the label against its artiste "Runtown," after the singer posted some videos of his studio recordings on social media suggesting he is working on a new collaboration with Wizkid.
Johnson advised Runtown saying;
"Runtown, rather than deceiving your fans by teasing them with a collaboration which you do not have the legal right to release, what you should do is to get your lawyers to come up with legal documents to clear your name just like Kiss Daniel when he had a similar issue. 
This is a way more matured approach than just throwing subliminals on social media."
Johnson added that;
"Its baseless pretending to the public when you clearly signed the dotted lines and its only right to be reasonable and keep your end of the deal.
 I Johnson Adumike will make sure that I inform the fans and followers of all proceedings and deliberations in court, so all interested parties can know current situation between Eric Many And Runtown at all times."