Last Updated on Feb 12, 2020 | 16:58 by Olabimpe O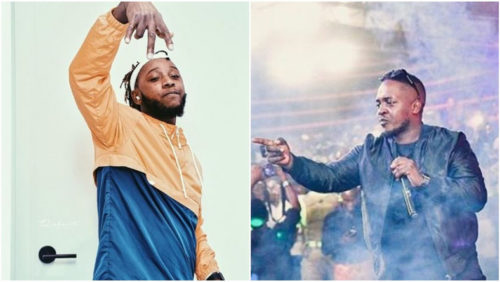 Nigerian rapper, Yung6ix has taken another swipe at MI Abaga and this time it's for stealing his lines.
It is no longer news that there is bad blood between the rappers. Yung6ix recently called out MI for not supporting his music and revealed all respect he has for him is long gone. The rapper is, however, in the news again for taking another swipe at MI.
The drama started when MI took to his Twitter page to share some bars encouraging his fans to drop their bars. He wrote: "Even my weak bars (if it's possible) wreak havoc / Break down my clips and you'd be unable to keep malice /I de rap".A Twitter user found the lines similar to that of Yung6ix and called the rapper's attention to it." "Are you @Yung6ix cuz this lines are familiar""
Yung6ix responded saying nobody from Chocolate City should try stealing his lines as he pushed his new genre of music, Trapfro to the new year just for them to write their own music.  "Make nobody for Chocolate City thief my lines this year oh. Just saying. I push Trapfro to 2020 so you people can write 2019."
See the tweets below:
Even my weak bars (if it's possible) wreak havoc /
Break down my clips and you'd be unable to keep malice /

I de rap

— Yung denzL (@MI_Abaga) February 9, 2020
Are you @Yung6ix cuz this lines are familiar

— MeStar Raycon (@Raycondaxy6) February 11, 2020
Make nobody for Chocolate City thief my lines this year oh. Just saying. I push Trapfro to 2020 so you people can write 2019. ????? https://t.co/y7NcJ2T5Bo

— BODY ? LINK IN BIO (@Yung6ix) February 12, 2020