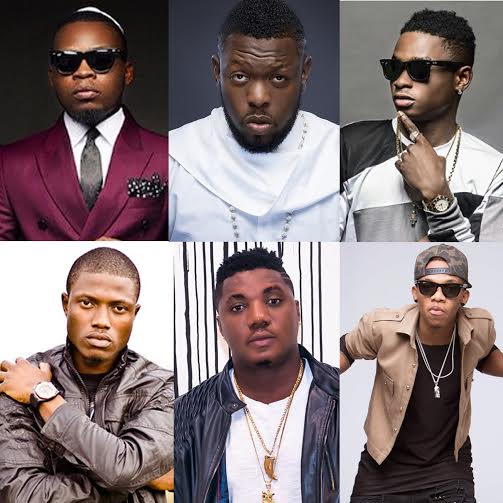 Nigerians are known for their love for partying thus our deep interest in groovy music and new dance moves.
Today, we will be bringing 10 dance songs that gets our adrenaline pumping beyond normal, which in turn makes every inch of our being sway or bump without apologies and our mouth spit out lyrics like they were implanted in us from birth.
Here are top 10 songs that instantly makes us wanna turn up.
Olamide/Bobo: Not only did this talented artiste successfully build a cult amongst the people for himself, he has for years kept that cult and any other non-believer interested and grooving with his songs. With 'Bobo', Olamide, re-registered his presence and might in the hearts of all, making certain that we are know he rules the dance songs game. He is known as one of the most consistent artistes in the business, not just consistent, but an artiste who drops bangers after bangers without so much as breaking a sweat. From the beat, to the easily downloaded and assimilated lyrics, Olamide's Bobo, takes the top spot in dance songs that instantly makes us wanna turn up!
   2. Lil Kesh/Efejoku: Just like his 'Big daddy" in the game, this young 'Lyrically' born baby boy is a wonder when it comes to turn up songs. With Lil Kesh's prowess in making the stiffest of waist suddenly become flexinle, I am certain the mantra for the YBNL gang, present and EX, is to ensure that Nigerians have a escape route from all their pain, hurt and disappointment, and that place is none other than the YBNL Music sanctuary. Efejoku, another hit from Lil Kesh, is a beautiful dance song, but of course why won't it be when he keeps yelling crazy alcohol riddled lyrics neatly placed on a well made beats, at you. 'Emi ti yo bai,mi o de le gboron mo….Efejoku ni, efe efe joku ni o, skibo!!! 'This song instantly makes us wanna turn.
3. Harrysong/Reggae Blues: The minute this song dropped, it instantly became like an anthem for every 99 percent Nigeria. Yes, we all know Nigerians love the good life no matter the platform it is presented to us. Be it on the local scene with Palm wine and Nkwobi, or the posh scene with all sorts of assorted and expensive wines served with finger food, Harrysongs Reggae Blues, is the song that brings those scenes alives, and the more fun part, all age group can relate with this song. Feeling downcast following  bad breakup, or just so sad with the situation the country is in, think reggae blues, think happiness.
4. Masterfraft/Indomie Remix: From the first lyric to the beat, this song instantly pumps adrenaline to every nook and cranny of your body. From its vulgar/seemingly high lyrics, to the catchy hook gingerly voiced by Baddo himself, Indomie is indeed a turnt up song.
5. Pepenazi/Illegal: Pepenazi, subtly carved a space for himself in the hearts of millions with this single, Illegal. Not the usual robust beat kind of song, just about perfectly created to make first our heads that swaying side to side, then our hands and legs, joining in the mind and body party. To make it even better, Olamide, decided on gracing the track with his mighty dance presence, of course you get a gingered hit at the end.
6. Tekno/Duro: For weeks on end, this song remained atop charts and on the lips, body and soul of many in Nigeria and across the boarder. The 'atilogu' inspired beat couldn't be more perfect for this song, as it presented the opportunity of either digging it out locally, mid poshly or even outrightly posh. With this mid tempi beat and a few mumbo jumbo here and there, Tekno's Duro, is just about right to place you in a turnt up mood whenever.
 7. Vector/Shiga: The lyrics of the song already tells you just how to dance to the hit song. Known for his mind blowing lyrical strength, Vector, made certain that his song was not only meant for turning up, but turning up to an intelligent lyric laced sound. Lost as to what to do after a hard day, Shiga presents you with different options, sit at home and turn up yourself, hang out with friends or just make your way to the club and let all the pain and hardship fly out the door. Vector's Shiga lyrics immediately went under our radar the minute it dropped. Vector, has paid his dues in the industry and most certainly has turned out to be one of the most impressive artistes till date. Shiga, is just another gift from this talented artistes to help turn a bored mind into a quilox lounge.
8. Timaya/Sanko: Well he is Timaya, he owns the dancehall kinda music…so no Timaya, Not only some people knows you, we all know you. Sanko, instantly puts the spring in your steps and dance. With a fast and voluptuous beat, Timaya's unique and all too signature dance step, makes this song an instant song that makes you just wanna turn up. You imagine Timaya's Sanko, your subconscious is already sweating it out on the dance floor.
9. Small Doctor/Mosquito Killer: All through this track, i was unable to really lay a finger on what the message was. Small Doctor, has since his career started, dropped several dance songs that immediately puts him out as a funny being given the fact that his lyrics are a collage of rambled mumbo jumbo which in all its essence still makes even the learned dance and sing along like he or she is suddenly a star performing to thousands of people. 'I Dey kill mosquito very well" huh……it doesn't matter as long as we get to turn up!!!!!
 10. Mayorkun/Eleko: Need i say much about this track. Writing and imagining this song alone, has earned me some stern stares and partners in crime. Yes, Eleko, is massively enjoyed by us all i bet even 98 percent of Nigerians will agree completely with us. From his
Did I in my excitement to let you all in on our 10 songs that instantly makes you wanna turn up, forget, to mention an artiste you think should have been included? let us know in the comment box, am certain, Nigerians will thank you.
Written by: Tope Delano