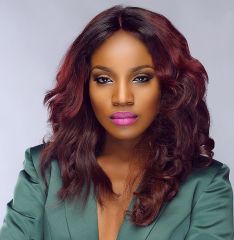 Last year, our very own Seyi Shay was signed to Island Universal Records, a label which also houses famous American superstars like Nicki Minaj, Justin Bieber, Ariana Grande, to mention a few.
Seyi, who recently granted an interview to an online news site revealed the reason why she emerged the only act in Africa to be signed by the Record label.
According to Seyi who was formerly part of a girl group called Boadicea and managed by Mathew Knowle's company:
I think a lot of record companies around the world at one point last year were looking for acts within Africa. So they were focusing on South Africa, Ghana, and Nigeria. I know they signed some other acts, from different parts of Africa.

I was signed mainly off the strength of Murda. Murda was released independently, completely independently with no engine, no marketing, no nothing, no money. And it grew its own wings, it crossed over, and it charted in the UK on its own.

I think they found that to be quite a big deal,  and so they decided to invest in wherever that success came from, and that was me and my team. They felt that they had found something good out of Africa, so they decided to sign me.
The singer recently released her debut album titled 'Seyi or Shay', which has gone on to receive positive reviews.