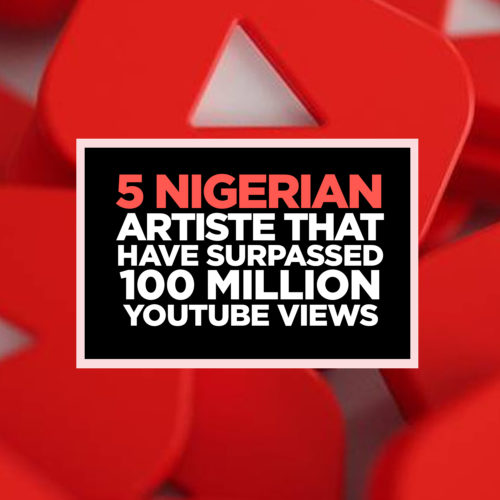 Hard work really pays. There's a lesson to learn here for music fans and the artists; Just as defined, visuals which portray the interpretation of lyrical content. The music industry in Nigeria is founded upon hype and Instagram flossing. With artists scrambling to create an air of superiority and success, rather than relying on the defining data and growing their numbers.
Some of our Nigerian artists have gone far beyond expectations in pleasing their music fans when it comes to releasing the visuals to their music. By not only portraying the act of making a good sound that will penetrate the heart and soul. But also put so many efforts by not just dropping a mere video but the one that will emulate and pronounce the hidden figures and fact which has been sung in the lyrics. While some just come up with a video for viewing sakes. As we know that good soup requires more funds. So as a good video require so lots of cash.
The writer has decide to feed you guys and also brings to your notice on how the Nigerian music has been doing globally in terms of video streaming. This article brings forth the Nigerian artistes that has over 100million views with a single music video on the Popular streaming visual platform, Youtube.
Youtube still remains one of the best ways to judge the success of an artiste visuals, as it provides real-time data that shows everyone how much people interact with the music video worldwide. Only by following the data can you truly judge the influence, power, and worth of an artist and his art. Let's not banter around but gets straight to the business of today, Below are the 5 Nigerian artiste that have reached and surpass '100Million views' with their music video on Youtube. (Also note that after the main list, we will be providing you with the next Nigerian artistes that will be joining the 100Million YouTube views Geng very soon)
"DAVIDO" with 'Fall'  and 'IF'
Top Nigerian Afro-Pop singer, Davido makes history with his 2017 hit track and 'African anthem';  "Fall" which currently basking over 158million streams on one of the best video streaming channel,  Youtube. "Fall" garnered a hundred million views on Tuesday, December 18, 2018 setting records as the most viewed Nigerian Music Video.
Davido who raised the bar for Nigerian artists has the highest number of subscribers on the streaming platform with a total of 2.05million. He was the first Nigerian artist to hit over a hundred million views on the music video platform with "Fall". This comes after his songs were featured on Google's top searched Nigerian songs in 2018 as well as the first-ever Apple Music A-list African songs.
"If" on the other hand also set a record, racked up an impressive 100million views. This comes just days after Runtown's 'Mad Over You' achieved the same milestone. Davido remains the most-streamed Nigerian artiste in the music industry. Now the singer has added another record to his profile, becomes the only Nigerian artist with two music videos that has amassed over 100 million views on YouTube.
YEMI ALADE – "Johnny"
The self-acclaimed Mama Africa, Yemi Alade continues to hold tight to her record of the most viewed female Nigerian music video, with the visuals of her song, "Johnny". As directed by the industry's highly rated cinematographer, Clarence Peters. The Multiple award-winning African pop diva premieres the visuals to her hit single on 3rd of March, 2014. On Jan. 27 2019, the classic visual joins Alade's elite videography putting it at the summit of the list as the first and only Nigerian female artiste in Afro-pop to have over 100 million on the digital platform and currently has garnered score tons of over 113million YouTube Views  and a total cumulative visual stream of over 400 million views.
Yemi Alade's "Johnny" was the second Nigerian music video to clock 100 Million views on Youtube
SINACH – "Way Maker"
Never too surprised. Nigerian Gospel diva, Sinach joins Davido and Others in the '100 Million Views Club', with the music video for what is arguably her signature number "Way Maker" which crosses the 100 million mark on YouTube. The track "Way Maker" which simply implies, "God knows the way through the wilderness of life. He is the light in your path throughout 2016 and Yes! He is the promise keeper" is the third Nigerian music video to surpass the 100 Million views on YouTube.
TEKNO – "PANA"
Just as expected, Nigerian multi-talented singer, Tekno Miles's 2016 banger "Pana" also made up the list. Tekno joins Davido, Yemi Alade and Gospel Singer, Sinach to have a music video reach the 100million views mark on YouTube. "Pana", is one of his biggest songs which is earning him more recognition till date.
The music video that currently has over 120million views and definitely still counting, was the one that brought Tekno into the 100Million views Geng and made him seat as the fourth Nigerian artiste to earn the record.
RUNTOWN – "Mad Over You"
On February 9, 2020, Nigerian superstar, Runtown joined the 100Million YouTube views Geng with his 2016 smash hit, 'Mad Over You'. Runtown, born Douglas Jack Agu released the song on Dec 7, 2016, and the video was released on YouTube in December 2019. At the time, it was built on heavy 'wash' and heavily influenced by the Ghanaian pon pon sound. It also got on BillBoard hot 100…
That melody as produced by Del B shot the song to the top of charts across Africa. As at October 2019, the video has racked up more than 80 million views on YouTube. Its current milestone means it amassed over 20 million views in just three months. While currently has over 101million views and still growing…
Above are the 5 Nigerian artistes that have surpassed 100Million views with a single music video on YouTube. Before we call it a Day, will also be sharing with y'all the next three Nigerian artistes that will be joining the 100Million views Geng in some days, weeks or months.
We Have; Burna Boy , P-Square and Korede Bello on our Watch-out List. Burna Boy's 2018 hit song 'On The Low' is currently on 99Million views which makes him the next artiste we will be welcoming very soon. The defunct music duo, P-Square will so be hitting that 100Million YouTube views soon with their 2013 hit song "Personally" which currently has over 96Million views. Surprisingly Korede Bello will be the next with his 2016 hit song "Do Like That". The music video currently has 91Million views on YouTube, this will be a major own for the young fella.