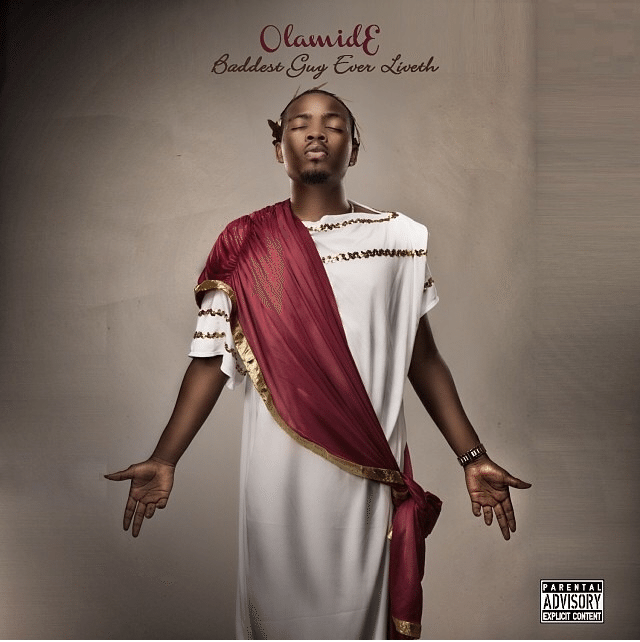 Artiste – Olamide
Album – Baddest Guy Ever Liveth
Features –  Buckwyla, Pheelz, Pele Pele, Ice Prince, Endia, Pepenazi, Ketchup, Viktoh, B.Banks, Bez, Do"2D"Tun & Phyno
Producers – Pheelz & V.I.C
Duration: 1.2 hours
Label – YBNL (2013)
It's been less than 12 months since Olamide's acclaimed sophomore album 'YBNL' hit stores, but he's not resting on those oars as the indigenous rap titan unleashes his third studio album titled 'Baddest Guy Ever Liveth'. The LP's lead singles Durosoke and Turn Up catapulted the artiste to newer heights, 'Baddest Guy Ever Liveth'  serves as a sequel to 'YBNL'; slightly stronger, deeper and a tad bit exhausting. Packed with many "fillers" just like her predecessor, BGEL's Achilles' heel is its length which reduces the wow factor of the entire body work.
Undoubtedly worth most of the praises and listen, consume our track-to-track review and know which cuts depress the endowment of the album.
1.     Intro Feat. Do"2D"Tun: In less than 2 minutes Cool FM's O.AP Dotun tries to give a rundown of Olamide's career as an artiste in a moving manner.
2.     Esupofo: Olamide fairly impresses with 'Esupofo' baring tribal and a young hip sound.
3.     Rep Adugbo (Feat. Buckwyla & Pheelz): Just like on YBNL, Buckwyla features on the third track on the album; this time though, he is joined by Olamide's go-to producer Pheelz. The thumping track is all about representing your hood; the groove and production is so engaging and breezy that you enjoy it without basking in the lyrical content.
4.     Anifowose: Pheelz is an utterly underrated producer and the chilling 'Anifowose' is a testimony to that, despite the fact that it can easily be over-looked. Sampling the great and legendary K1 D Ultimate on the hook of drum enriched, yet lightly produced song; Olamide calmly talks about his struggle for success. If you ever wondered where the trending line; "Versace Versace/ You rocking Versace/ Your mummy is hungry Oloshi", is from? It is culled from the third verse of the song.
5.     Skammer (Feat. Pele Pele): The tempo of the LP paces up with 'Skammer' which features fresh rapper Pele Pele.
6.     Eleda Mi O: Olamide is an artiste who mostly raps his verse and sings his hooks and choruses all by himself. He shows this again on the groovy 'Eleda Mi O'; the song will fit right in, in a traditional party or wedding reception. It is basically a song about having a good time with lyrics like; "Baba God wa lo turn up".
7.     Baddo Love: "Baby I will always love you…" Olamide's un-fine singing voice utters on the moody chorus the seventh track. Despite the infectious and honest nature of 'Baddo Love', we still feel that a featured vocalist should have been employed to lend Olamide a helping hand to ensure that this alternative rap inspired number is greater nonetheless the love preaching track is a favorite. Apparently Olamide is in love with both his quest for success and his girl but loves the latter a little more.
8.     Position yourself: 'Position Yourself' can easily be labeled the 'Stupid Love' of 'Baddest Guy Ever Liveth'. Like 95.2 % of the album; the potential club anthem is produced by Pheelz. The Makossa influenced number might not stimulate anything new, but it will surely get you worked up on the dance floor.
9.     Skit (Feat. Ketchup): Ketchup complains about the success and attention Olamide is getting. Might get a little exhausting but would have worked perfectly if 'Durosoke' followed it instead of un-fresh 'Gbadun Arawa'.
10.   Gbadun Arawa: This is one of those songs that arise when you have a LP, housing over 20 tracks. Not-groundbreaking and kind of recycled, 'Gbadun Arawa' does not demand attention like most of its colleagues.
11.  Motivation (Feat. Ice Prince, Endia & Pepenazi): Pheelz wows with his production, Ice Prince Fails to heat things up with his fire or should I say he offered his Ice; nonetheless Endia, Pepenazi and Olamide each try to save the day yet 'Motivation' fails to motivate.
12.  Church (Feat. Viktoh): Another weak song which showed much potential in the first seconds. Desperate stans of Olamide might force their ears to appreciate the cut nonetheless the sermon of this 'Church' is anything but spiritual.
13.  Sitting On The Throne: Move over, Olamide is Nigeria's rap king! Well that is what he is says on the thirteenth cut proving why he is a force to be reckoned with in Nigeria as far as his genre is concerned. 'Sitting on the Throne' is the only song not produced by Pheelz on the length album.
14.  Mu Emu (Feat. B.Banks): Assisted by B.Banks, Olamide starts to get his groove back with 'Mu Emu'. The mid-tempo ear candy shows a perfect blend of Olamide's rapping, singing and layering of background vocals; Olamide might convince you for a moment that singing is his true form. Must listen!
15.  Turn Up: Fated to make you 'Turn Up', the cut rises up to the occasion.
King Shii: Olamide is still king and brags about it on 'King Shii'. Not one of the album's brightest moment but it is a commendable afro hip-hop item.
17.  Durosoke: 'Durosoke' takes it inside and outside; it is such a big song. Big not like towering ballad, but the arrangement, the humorous yet serious emotion, Olamide's delivery and the effect it has on the listener. Definitely the album's strongest song aimed at making one move, and we moving alright.
18.  Dope Money (Feat. Phyno): We will start by saying that Olamide and Phyno should make a collaborative album; judging from the brilliance of their fist record together 'Ghost Mode' and this dope piece of music labeled 'Dope Money'. The care-free swagger the song oozes is impressive and they make it seem easy as they fiercely brag on the hip-hop orchestration.
Yemi My Lover: Olamide yet again shows artistic depth and maturity on 'Yemi My Lover'. Olamide soulfully tells the tale of a sour past lover over stripped instrumentation driven by solely sythns, piano and drums. This cut will put Olamide on track on his race to legend-dom. With a title destined to raise eyebrows, the infectious yet catchy chorus, fierce delivery, and back-up vocals placed at the right spots drive the song home. Just like Durosoke if treated by a seasoned live band, one will be made to realize why the YBNL front-man is a principality. To cut the long story short 'Yemi My Lover' affirms the fact that Olamide is a recording artiste not a rapper.
20.  Rayban Abacha: BGEL is definitely too long nevertheless the last part of the LP houses the LP's gems like 'Rayban  Abacha' fo example. An awesome groovy dark hip-hop track where Mr. Adedeji shout-outs both his haters, supporters and fans.
Higher (Feat. Bez): 'Higher' falls short of expectation; for selfish reasons we feel a Praiz or Timi Dakolo would brought life to the feeble alternative rap cut. Do not be deceived 'Higher' lacks the x-factor and will not take your higher or induce any goosebumps; the song is okay at best.

    rated 3/5
 Reviewed by Ogaga Sakpaide [ @Ogagus ]

"ALBUM REVIEW: Olamide – Baddest Guy Ever Liveth", 5 out of 5 based on 1 ratings.
---