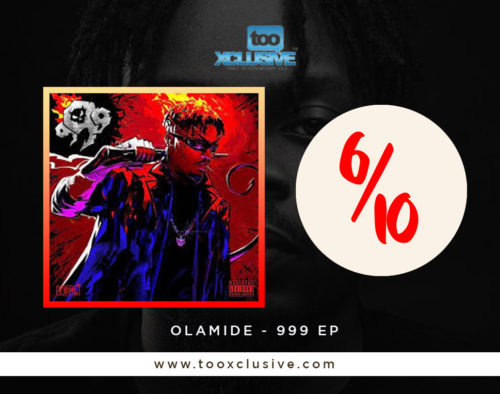 Most fan have moved on from Olamide the Rapper, to Olamide the Pop and Afrobeat/Afro-fusion singer, therefore this '999 EP' (Rap Project) can't stand the test of time because it sounds weak and wouldn't be appreciated. Baddo Should Have Just Dropped "Wonma" As Single To Start 2020.
Nigerian hip hop recording artist, Olamide Adedeji popularly known as Olamide Baddo will be celebrating 10 years on stage this year 2020 as a performing act. We all know the OG ( veteran) broke into the music industry with his indigenous street hip hop genre in 2010 with the hit song – 'Eni Duro'. Since then Olamide has been dropping hot hip hop bangers and rap song back to back which earned him the 'King of The Street' title.
Five (5) year later Olamide switched from rap to signing. In 2015 he started experimenting Afrobeat and pop sounds, the following songs; 'Lagos Boys', 'Bobo', 'Melo Melo' were singles from Baddo that brought him to the signing genre. The same year he featured on Pepenazi's hit song 'Illegal' where he did nothing but sang. Baddo got comfortable with signing and going commercial which made him switch between Rap and Pop. From 2015 till late 2019 Olamide has more singing outputs/hits (Both singles & features) than that of Rap.
2020 marks 5 years the indigenous rapper switched into Pop, doing more of signing that the Rap. To show he is an OG and still the rapper we all fell in Love with he surprised us with the "999 EP". This project released 10th of February 2020, is a 9 track body of work that took Olamide back to his Hip-pop/rap genre. He even experimented the foreign Trap vibe on some tracks in the EP.
Now to the main focus '999' EP, When this said EP was announced by Olamide a night (Sunday 9th Feb.) to its release, i was on the high lookout (anticipation) cos the shared Artwork speaks a lot. The Album art showed Olamide is in for a hard fight, someone who is coming to destroy us with fire and shots. The EP finally arrived on the 10th, I listened and at the end was like, 'OK with all the cover art 'Effizy' this is it, am not impressive coming from one of the baddest rapper living'.
The '999' EP doesn't have 100% content of Olamide, This my major disappointment why feature lot of peeps on the EP (a 9 track body of work). The Olamide i know murder any beat and doesn't even give rappers chance to voice even when you feature him. He should have owned this project Solely, the only feature i can accept is the one with his Son (Batifeori) Milly – 'Billion Talk'. 'Baddo you trying to prove to us you still that blazing rapper we all loved so why have lot of rappers on an EP, a project that should be a piece of cake to the King of The Street'.
This EP is just a point above average, Olamide was strong on few tracks, experimented well on 2 and dropped the standard again and 3. What i appreciate about the '999' body of work is the arrangement; The beginning (First Track) 'No Time'… this track is best among the rest to introduce the EP, it talks about staying focus and true to your dreams (Building An Empire) also sharing that there ain't time for nonsense talks and irrelevant moves (Living Your Life is the Basic). Also the median (Central Track) 'Wonma'… this track is a pop one that bring life to the EP if not most would have been bored all through (Love the fact he used that to cut the seriousness of rap). Then lastly the concluding track (Last Track) 'Rich and Famous'… this the best track to end the EP after the all experimentation Olamide calls us back to reality. It's a conscious song that touches the 'Rich and Famous Lifestyle', what you must sacrifice before making it in life and also what you have to sacrifice after earning the Riches and Fame.
These above listed tracks are the best and if not most fans favourite off the '999 EP'. 'Billion Talk' and 'Prophecy' are also good output based on his trap/international hip hop experimentation. Others were just there filling up space.
In Conclusion, the '999 EP' is just an average project with the name Olamide has set for himself in the Rap industry (The 1 point above average that made the Album receive a 6/10 rating is for the artwork). Sadly most music fans has moved on from the Rap/Hip Hop culture, its now all about Pop, Afrobeat, Afro-fusion, Pon Pon and the RnB vibe Fireboy and Chike just brought back with their recent debut album, therefore am sorry this album can't stand the test of time.
---