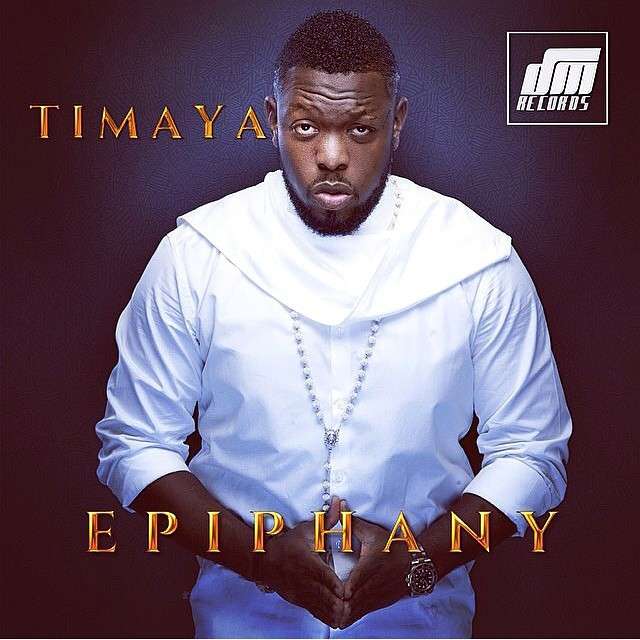 ARTIST – TIMAYA
ALBUM – EPIPHANY
FEATURES – OLAMIDE, PHYNO, TERRY G, PATORANKING, SHINA PETERS, DEETTII, RASKIMONO, SEAN PAUL, 2FACE
PRODUCERS – YOUNG D, ORBEAT, SARZ, PAPITO, MASTERKRAFT, T-SPIZE, JEZ BLENDA, DREY BEATZ, KENNY
LABEL- DM RECORDS
RUNNING TIME- 73 MINS 05 SECONDS
Timaya has been a commercial success right from the days of his dada and his 5th studio album titled 'Epiphany' comes with high expectations so hopefully, it doesn't fall below par. Epiphany suggests a divine manifestation and the Egberi Papa is clothed all white on the cover perhaps in a bid to convey the supposed appearance of divine. Will the songs be able to attest to the epiphany?
The album begins with the Young D-produced track BOW DOWN, not bad for a start or is the Egberi Papa playing safe? The next track is SANKO, it got me nodding but on a second listen I couldn't shake off that Burna Boy vibe in the song. Timaya goes further with LAI LAI, again produced by Young D and it features Terry G. The song is a glorified crap! The ringing of bells and 'kabashing' literally makes no sense to me. And did Terry G just say ginger? Oh please! Stale lyrics. LOVE (MY BABY) is not a bad love song. He appreciates his baby or at least according to Timaya, "she good for bed" and that is enough to be grateful for. The use of Igbo language gives it that indigenous feeling and that little touch of high life in the beat gives it the 'African-ness'.
GBAGAM follows after, featuring Phyno and Deetti. Orbeat doesn't disappoint on the beat while Timaya and the featured artistes deliver well. Not a bad debut for Deetti as well. After this, Timaya comes out to let us know he is a bad man on BAD MAN TIN. It has awesome beats, heavily spiced with enough curry and maggi to tickle your fancy. It saved the day. My friends actually think the beat should have been reserved for a better song.The next song on the 'Epiphany' is titled IT'S ALLOWED. Typical Timaya! Just like the title, it's allowed to skip to the next song. The song doesn't pass any distinct meaning from player hating to whining the ukwu. C'mon! After skipping, the next track features Patoranking and it's titled GIRLS DEM. The titled is self explanatory. Another bum-bum song. Nice beats though. HAPPY features a veteran, Sir Shina Peters. It's an owambe jam with a lovely tune and not a bad collabo either. Shina Peters gave it that 'old school touch' but must Timaya always remind us that he and his mama sold plantain?
Next on the play list is SANKO DANCE HALL KING. I reserve my comment on this. On BOTHER ME, Timaya deviates from the bum-bum story to pass a message, especially on the state of unrest in the country. Not a bad track. The beats make you nod your head while you get the message in the lyrics. Egberi Papa sings of a strained relationship on PAIN. The beat is commercial enough. The lyrics? Nothing new but well delivered above average. OVERFLOW features Olamide. Dis wan na beta beat, good for the club goers. But must Olamide cough to prove a point? Like the title suggests on BEHIND ME, Timaya tells us another bum-bum story. Wonderful club banger so don't expect sensible lyrics. After this, he says ESHE. Could he be thanking God for the bum-bum in Behind Me? The next tracks HOLD ME NOW, UKWU, EKOLOMA DEMBA & BOM BOM REMIX takes one on a journey round the world of bum-bums and ukwus. These tracks don't disappoint the club goers.
The last track APPRECIATION which features 2face is a wonderful way to end a 5th album by appreciating his fans. This jam happens to be my favourite on the compilation. 2face brings in this unexplainable flavor while Young D does a good job on the production. The bonus track DEM NO LIKE ME featuring Raskimono is no fluke. Listen for yourself. The album Epiphany should have been termed 'UKWU-PHANY' due to the numerous bum-bum stories. Timaya's compilation doesn't fall below par because he hasn't disappointed his targeted audience. After all, some second studio albums can't hold water.


Rating – 3/5
Reviewed by aLadin Yhusuff
@aladin_yhusuff
---