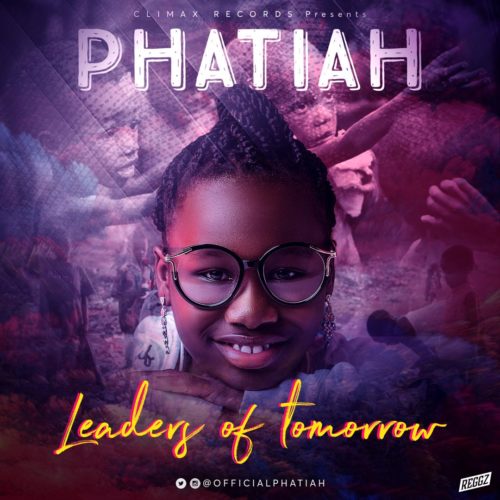 Fatiah Kanyinsola Ojediran popularly known Phatiah was born on the 26th of August, 2008. At the age of 5, she showed keen interest in music and took it a step further in rhyming popular music lyrics, just as she declared her interest to become a musician who will influence people positively with her music. Having expressed her desire, her parents set about providing the enabling environment for her to express her inmate talents for public consumption.
Though cool as cucumber, and playful like her age mates, she remains tenacious as she keeps appearing at one music show after the other, and interviews to express herself, her music and her vision.
Her desire, abilities, focus and quest for self-expression in a differentiating way to make her leave indelible marks on the musical sands of time evolved in the form of her single track titled, "Education" which was released on the stables of Climax Entertainments on August 2018. She is not resting on her oars as she is set to go above the sky with eagle-like precision by producing music with wholesome, inspiring and life-building content.
As a consistent, dynamic, active and upwardly mobile music youngster, she has to her credit the following:
• Release of "Education" single music track
• Performance at Lagos state musical fiesta, Epe recreation centre, music and message concert, freedom park Victoria island, Lagos state university, Nigeria independent party.
• Impacting humanity with visit and donation of gifts to numerous less privilege.
• Endorsement by Numatville
Among her various interests is to inspire children and youths to excel in their academics, and whatever they lay their hands on.
Her musical efforts have drawn recognition with highly commendable views on Naijaloaded and other musical platform. She has been priviledged to understudy the driving force behind musical weights and has had audience with Malaika, Pasuma, Cdq, Qdot, Danny s, zlantan ibile, through intervention of her managers, Ray Arnold, Blessing Aletan.
As a humane and sensitive child, she has passion for the wellbeing of children and has severally expressed dismay at seeing unkept, underfed and ill-looking children on television.
Therefore she is presently in the studio working on a music track which is aimed at further drawing attention of the public and humanity to the plight of children in a way that meets the objectives of United Nations International Children Emergency Fund (UNICEF).
Watch and Listen to Phatiah's "Leaders Of Tomorrow" below…
---