AV Thug Love EP.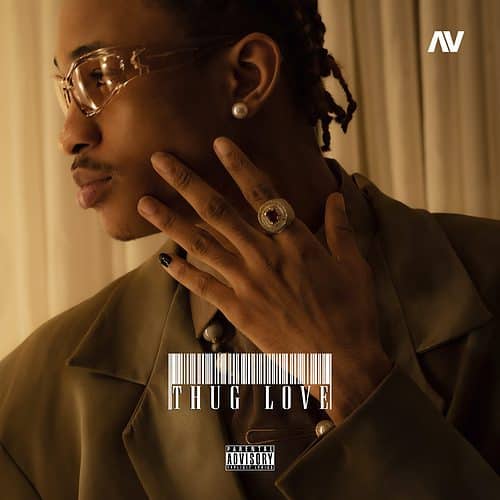 Following the release of the lead single "Booze & Bum Bum," Nigerian singer and songwriter, AV, releases his highly-anticipated debut EP Thug Love. Just after a year that the singer entered the limelight, he is ready to bring listeners into his world, sharing his vulnerability and experiences through his music.
With 5 tracks, AV descends into different themes such as love, hedonism, relationships, women and more. AV has a knack for dainty melodies, which he employs to convey his feelings and experiences, distilling those feelings and experiences into discernible lyrics. He has found himself in romantic relationships where things are not exactly rosy all the time, which the singer believes is the true state of love and relationships. "Thug Love" explores AV's ardent love interests and decadent desires.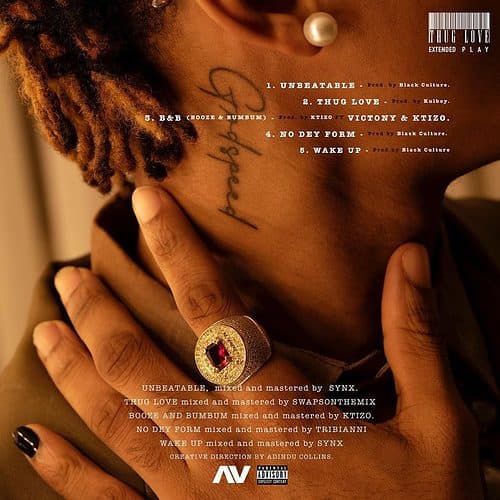 On "Unbeatable," produced by Black Culture, AV enunciates his meteoric rise to stardom in less than a year. He's proud of how far he has come in a short period of time while keeping his eyes on the prize. "Thug Love," the next track sees him serenade a particular love interest in a mix of English, Yoruba and pidgin, admitting that he hardly has any time to himself as he's in demand across Africa and Europe. Nevertheless, he's willing to make a compromise and fit her into his schedule, with intentions of taking her on trips.
"Booze and Bum Bum," a fast-paced Afropop tune, which features wunderkind Victony, captures AV's proclivity for gatherings packed with women and alcohol. Victony does what he does best, bringing a different vibe with his ravishing vocals. "No Dey Form" sees AV sing about his attempt to woo a lady that's seemingly self-conceited. "Wake Up" is a ballad with mellow chords where AV croons about the inexplicable feelings that his desired lady evokes in him..
Since AV broke into the Nigerian mainstream, he has continued to worm his way into the hearts of listeners with his dynamic sound. With hit songs like "Big Thug Boys" and "Confession," he's proven that he's a force to reckon with. His music has seen him travel to various countries across Europe where he enamors crowds of music lovers with his performances.
"Thug Love EP" owes its production to extraordinary producers like Black Culture, Kulboy and Ktizo. AV's debut EP is now available on all digital streaming platforms. Enjoy!