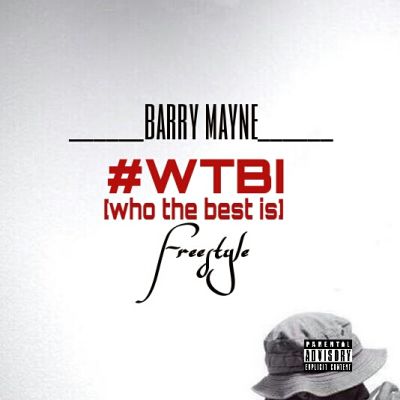 Get addicted to Barry Mayne as he intrigues you with another delicious sound '#WTBI [Who The Best Is]' from his exotic musical cuisine. ?
#WTBI is a freestyle by the young multi-lingual rap god who hails from the city of Jos. It is a  continuous thrilling piece of art that will keep your ears up all through it's record play as every punch will knock you down with excitement. I'd had it on replay since.
Listen up and tell a friend!
DOWNLOAD Barry Mayne – "#WTBI [Who The Best Is]" (Prod. by X)
Find the lyrics to Barry Mayne's new freestyle record

I need a prescription…
I gat an addiction
SCMG forever
so official.
Take me out of hell if heaven exist;
Apprehend me for this track murder and I
Won't resist…
Yo! Badman, tell ' em
Killin' ' em beat is not a problem
Sorry if you got cheap speakers,
Another rapper dead,
The geek's layout …
Fake handshakes, gory smiles of hate
I told you rap n*ggaz I decide your fate
Hatin' on this n*gga only complicate
It's perllucid I'm 'ur tutor but you never appreciate
Mr. Impede on 'ur future with this track I aced
Pee on you bastards till you beg for grace
I'm that kid with more style than this day
Alien space
Barry Mayne is the name, I'm the skinny biggie
Fresh boy from J but he a threat to Gidi
Hannun baiwa ya na de shi a jini
Idan ba su sanni ba dole su sanni
Murder is the case when he comes around sue me
Now behind bars charged for lyrical crimes free me
So far gone you need binoculars to see me
This is not a track saying Mr. Mayne you did it
You the sh*t boy you exactly what we need
F*ckin' with this n*gga is 'Haram' boko
I own the area like the government do no harm local
Spittin' truth in the buff on a Mic with no cord vocal
Banks on the limit you can't stop the flow warm
1994, you wanna go Rwanda
Then I might need a gun… pah! Pah!!now you might need to run
Now tell me who the best is…
A1 from day one
Now tell me who the best is
A1 from Day one
Now tell me who the best is
A1 from Day one
[no test please… no test please]
Another blood shed
Another rapper dead
Da Vinci to the bone the boy paint red
Either way you want it I gat it I ain't scared
I butcher the beats microphone in an abattoir
Even bar yell Sir! Yenagoa
Qui est avec moi,qui est avec toi je me demande parfois.
vie dure la Bible dit que chaqu'un porte sa croix quand tout je vois se noir ma vie je donne a toi?
Oh! Yeh! Now you surprised
The boy multi-lingual
Fill up my cup GTV that's the usual
Now tell me who the best is…
A1 from Day 1 no Bs
Infected introspection no test please
Young Pharaoh_ Egyptian breed
I keep lame rapper alive yet they can't breath
First aid prescription my bars be the hydrotherapy
OMG I'm the ONE
Is suicide f*cking with the n*gga at the TOP
I'm a legend you should take a picture me…pose
No contest I'm the only rapper with the PHD…foe
Clearing up the garden I'm the only tool you need… hoe
Now tell me who the best is…
A1 from day one
Now tell me who the best is
A1 from Day one
Now tell me who the best is
A1 from Day one
[no test please… no test please]
Addictions on ma 'J' Aims you can't untie the bond… 007
Ball till I fall, 9-11
Crucified for the game you could call me the rap version Mel Gibson, go tell a reverend
Or you can holdup please…Can't be compared with these other boys
I'm fresher than Adam… million dollar voice
Mayne
---