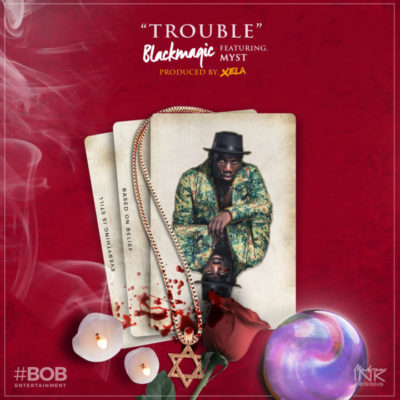 The Afro hip-pop artiste whose most recent release was in September is back at it again and has officially kicked off the year with the drop of his new single titled 'Trouble'.
The song which features long time collaborator and producer, Xela (Repete, Wonder) serves as the first offering from his upcoming "7 Love Letters" project, a seven track EP he plans to release in a few weeks.
Pleasantly so, the new track is exactly what fans been waiting for and it sounds like an absolute appetizer for what's to come.
The best thing about this song is how Blackmagic is able to show off his range and display his abilities in full view thanks to wonderful production work from Xela. The duo keep finding ways of ingeniously fusing afrobeat with contemporary hip-pop rhythm and here they were quarterbacked beautifully by the amazing vocals of Myst who delivered her hook to perfection (quite a catchy hook too). The result is one of the best songs you'll listen to this year and one that will have you singing along in no time.
With new singles due off the Love Session Project, it's safe to say we'll be seeing more of Blackmagic, and hopefully he'll continue to capture our attention with his well… magical music.
Enjoy!
Black Magic – "Trouble" ft. Myst