Blaqbonez Fake Nikes featuring Blxckie & Cheque.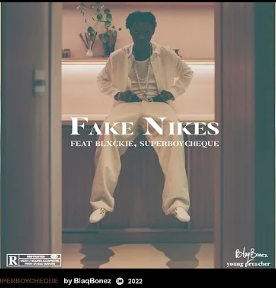 We are back with more messages from The Young Preacher- Blaqbonez, Listen to 'FAKE NIKE' below.
Award winning rapper, Blaqbonez releases a brand new song title, "Fake Nike". He features Superboy Cheque and Blxckie on this track which is from his soon to be release album- 'Young Preacher'.
Blaqbonez a.k.a Akumefule Chukwu-Emeka George is a Nigerian rapper signed to Chocolate City Music; the biggest music & entertainment company in Africa. The young rapper who is popular for his versatile, energetic, and competitive style of rap, as well as his many personas.
His upcoming project "Young Preacher" is his "gospel"; his raw, undiluted truth and this forthcoming album purely depicts this; starting from the self extolling introduction as the "Young Preacher" and moving on to 13 perfectly crafted stories all within the 'Sex Over Love' mantra; borrowing core rap, reggaetón and trap influences.
Fake Nike Quotable Lyrics
Young Nigga,
I still rock fake Nikes
If you gat a problem
Pull up and fight me
Cos if I go broke buying real Nikes
Half of y'all Niggas gon still spite me…
Listen to the track below, Enjoy!
STREAM HERE