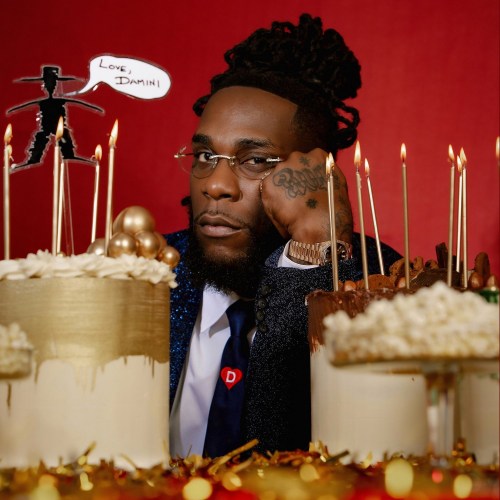 Yes-it's straight out of Nigeria; it's straight out of Africa; and unknown to many; Africa does have a lot of genres (source: Burna Boy interview on Gillie Da Kidz; Million Dollarz Game Podcast); I dare to say this; Burna Boy has not only followed the steps of Legendary star 'Fela', he has also created a sub-genre called Afro-Fusion; and after 3 albums; and a Grammy award, he has solidified the essence and birth of a genre that he alone runs and owns at the moment (a genre which is a sub-genre of Afrobeat) and it's called Afro-Fusion.
Time is of the essence and Burna Boy's "Love, Damini" is profoundly the outcome of hard work and a transition of a niche; coming from the old into the new (Afrobeat to Afro-Fusion).
One thing we can't take from Burna Boy is the truth that he is Hip-Hop oriented and wants everyone to know he is versatile too; and unlike his other records, he defined Afro-Fusion on this album; from the make-up of the production; which features A-list artist like Khalid, Kahlani, Blxst; Popcaan and Ed Sheeran; to production credit, to speaking his truth about the gift and the curse of fame and even touched on love. In my opinion, Burna Boy's Love, Damini is worth the time and cents spent. It's therapeutic too.
Debuting in 2013 with his first LP called L.I.F.E to gaining international notoriety with his 2019 album called "African Giant" to winning a Grammy for his 2020 "Twice As Tall" record; it is now clear that Burna Boy is a melting pot; taking from his passion in Hip-hop to bridging it with his heritage in Nigerian dialect and sounds as the case may be.
The soulful; spiritual vibe in "Common Person" which is embedded in High-Life; Afrobeat and grime features J-Hus goes well with his connection with Khalid on "Wild Dream" as both, although having two different UK artiste on it, have the same underlying truth of Burna Perspective of life; and what drives him into reality. It's that force of wanting to live more; become a better man; show off his prowess and potential, and as well stunting on his haters; spewing lust and manliness.
"Last Last" which is the first single and a song about his breakup from Jamaican international superstar "Steflon Don" samples Toni Braxton; a milestone move that makes his sold-out show at the Madison Square in New York a treat to fans; as he gave them a preview of the song. With the depth of the percussion; fusion of hiphop; reggae; pop; High-Life; R&B and Rap; Jazz mixed as one mouthful morsel, one can argue that this is Burna Boy's most definitive moment of his sound. One can understand his musical genius when listening to Love Damini; one can feel the authenticity of Burna raw passion for lyricism; hip-hop; and ridiculous audacity; which shows the African Giant showing off his pride as African, not just Nigerian.
Featuring Ladysmith and Black Mambazo, he took it further on an Afrocentric-jazz vibe with "Jegele", showing his respect to Afrobeat Legendary superstar "Fela". Burna-boy lets his vocal define his tutorship; and then lets it swirl into the new style of what the supposed sound is to be like now that he is able to come behind a great mind, going further and opening a door for the possibility of more.
The possibility of blending diaspora SOUND WITH AN ESTABLISHED SOUND, from Africa, is best brewed in this LP; which is far the coolest as far as meeting that new international standard. It's dominated by artists like Kendrick Lamar; Drake; Ed Sheeran; Justin Bieber; The Weekend and J Blavin; and you can hear it on songs like Ed Sheeran-assisted "For My Hand" and the J-Balvin feature titled "Rollercoaster".
The concept of the LP shines brighter in features and beat production; the mix engineers caught up a step with the interpolation of the fusion and direction of the songs; the emotion of the album is artsy (as it flows in a different direction; and still connects the dots; drawing you in and out; and satisfies the listener and get them hooked with every sound.
More like an experiment; Burna Boy's sound has evolved with each passing album, and international fans can see that fearlessness and understand the influence and distinctness of African rhythm, Fela's Music; and Burna Boy's love for the music of the West.
It does shine and has a lot of potential, and one can't compare it to "African Giant" just yet; as that album is a masterpiece in itself; or argue that Grammy Award-winning "Twice As Tall" isn't worth the gem and glory of its time (we wouldn't know now) but we sure can expect the possibility of seeing this album someday in retrospect as one of the Burna Boy's top albums.
Potential Of Album
1: Quality Sound
2: Mastery of the Afro-Fusion genre
3: Sincerity
4:Growth
5: A possible Grammy Nomination
Downside Of Album
1: Album is too long (with 19 tracks)
2: It has the same sounds as the last two albums(strictly Afro-Fusion)
This album is rated 8.5/10
STREAM HERE
Written by Olalekan Remilekun
Olalekan Remilekun has been studying HipHop for over 20 years; and building his brand as an entrepreneur, Rapper, Blogger and Writer, you can follow him on twitter and other social media platform.
Twitter: ElJudah88