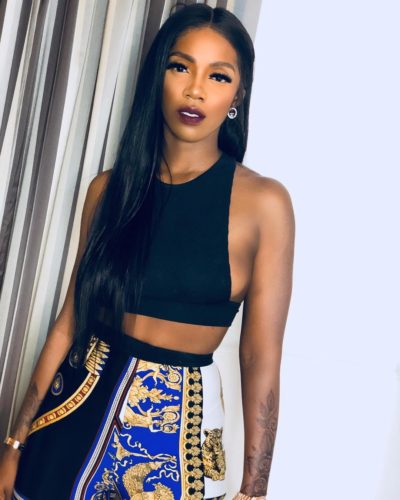 Nigerian OAP, Bella Rose, and sister to Gospel singer, Benita Okojie has blasted Tiwa Savage for misleading everyone with the video she posted about OAPs at City Fm slandering her.
The internet was thrown into chaos just yesterday and even till now when Tiwa Savage yesterday posted a video of OAPs at City Fm insulting she and Yemi Alade. Not knowing that they were bring recorded, the three women went on to ridicule the female artistes calling them several derogatory names.
However, Bella Rose thinks otherwise and took to her Instagram page to reveal details of what really went down. According to Bella, the OAP, Melody who called Tiwa Savage a "Fool" in the video, was misunderstood as she would never talk ill about other women as she supports and fights for the womenfolk herself. Bella accused the "49-99" singer of making the video look like the OAPs were solely out for her and Yemi Alade.
She wrote Melody. Outlier. If there's anyone who supports and literally fights for women, it's Melody. Some facts. Ceeza Milli had just been interviewed by Melody and he claimed that he wrote songs for Tiwa Savage. Surprise surprise. How is it that not many know that Ceeza Milli wrote songs for her? Eish.
The conversation ensued. Melody, the only OAP in the video wondered, if people found out that Yemi Alade hits were either written by Selebobo or not by her at all, (as she is one who gets criticized heavily for even the littlest things), "won ma bu pa!" (They'll insult her!) Jess (far right) says something and Dami (middle) reports the statement to Melody to which Melody responds, "she (Jess) is a fool!"
Tiwa edited that video to make it look like Melody set out to insult her and Yemi Alade and that's actually misleading. That faux "woMeN doNt SuPpoRt woMeN" bait or caption is razz and untrue. That she posted a picture of her with Melody on her stories earlier in the day and then put out the video making it look like it happened after her interview is dishonest and a blatant lie.
That she (or whoever sent her the video) removed the part where Ceeza Milli told Melody he wrote hits for Tiwa Savage is an intentional attempt at sensationalism. Lord have mercy.
---