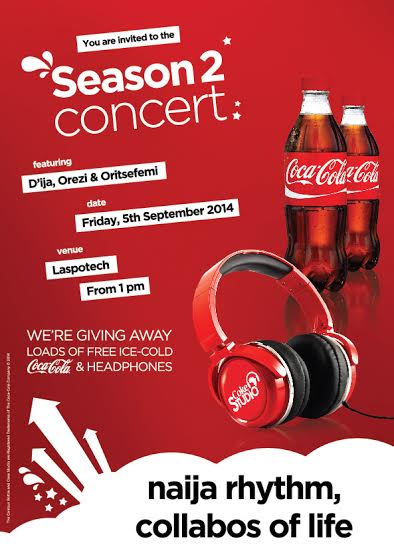 Concert Details:
Venue: Main Bowl, Lagos State Polythenic, LASPOTECH Main campus, Ikorodu
Date: September 5, 2014
Time: 1pm prompt!
What is Coke Studio? Coke Studio is a music based television-show that brings the best artistes from across Africa together to create new sounds through a fusion of genres, styles and songs. It is hugely successful in the Middle East and Asia, and started in 2013, in Africa, to rave reviews! This year, it is bigger and bolder, and has been expanded to include a series of concerts across higher institutions in Nigeria. Coke Studio is brought to you by Coca-Cola.
What can consumers expect at the concerts? Music, entertainment, dance and loads of ice cold refreshment from Coca-Cola. Featuring music by your favourite artistes, raves powered by our delectable DJ, and of course comedy to get you cracking up. Artistes performing: Oritsefemi, Orezi and Di'ja, supported by Comedians and lots more. Do you think you can sing or you have what it takes? Come show your skills on stage and earn a chance to perform live and collabo with your favourite stars on stage at the Coke Studio Concert!
How to enter: admission is FREE, just buy a bottle of Coca-Cola and bring it with you, or you can buy at the entrance!! You don't want to miss out on the fun and excitement. For more information and to know where to catch the next Coke Studio Concerts, visit https://
www.facebook.com/cocacola, https://twitter.com/CocaCola_NG or CocaCola_NG on Instagram
Coke Studio…Naija Rhythm, Collabos of Life.