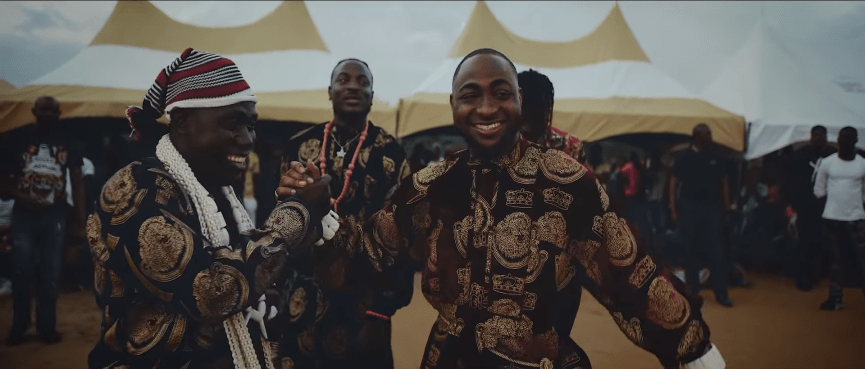 Just like every life endeavor, there is a food chain in the music industry and each member of that chain plays an important part in the existence of the industry. From the artist to the final consumer of the music, we can all be considered as investors or shareholders in the industry. This brings me to my point of artists churning out content that their core fan base can relate with. This is exactly what happened with DMW's latest music video, Aza which features Davido, Peruzzi and rave of the moment Duncan Mighty himself.
Ace cinematographer Clarence Peters has gotten the stick on the internet recently for the quality of his recent works and he understandably went full out on this one. The video was shot in the Port Harcourt area of River State which is the home of a rich variety of ethnic groups. Most of the time, these groups are split into upland and riverine tribes and it was so refreshing to see all of these groups in the same video.
The first three minutes of the video takes us into the heart of the riverine as we see firsthand the lifestyle of the people there; a hunter cleaning off the skin from his catch, a group of men playing draft, a fisherman making his way to the middle of the river, a bunkerer taking the risk of tapping oil albeit illegally, a man having some family time with his daughters. My favorite part is Duncan holding a cultural mask over his face surrounded by young men in the river holding hands in a form of solidarity. The use of imagery in this video cannot be overemphasized. It's also important to note that Duncan Mighty is from Ikwerre, an upland tribe.
The final part of the video sees a chieftaincy ceremony with a good number of ethnic groups (Ikwerre, Okirika, Kalabari, Andoni, Opobo. Ahoada, Omok, Ogoni & more) represented demonstrating the vibrant cultural heritage the people of Rivers possess; a group of men & women dancing, another set of women playing the instruments founds across the tribes and even a wrestling bout which is a common place in most coronation ceremonies.
Music is a powerful tool as evidenced by the exploits of top acts over the world and it is just right we use that tool to tell our own story. Who better to tell it that Nigeria, scratch that Africa's biggest export to the world right now in Davido. Clarence Peters did a great job with this video and once again make his stamp as one of the best directors in the music game today.
Written by King Michael [ @_kvngmichael ] for TooXclusive.com


"Davido & Duncan Mighty's "AZA" Video is a Celebration of Rich Cultural Heritage", 5 out of 5 based on 1 ratings.
---