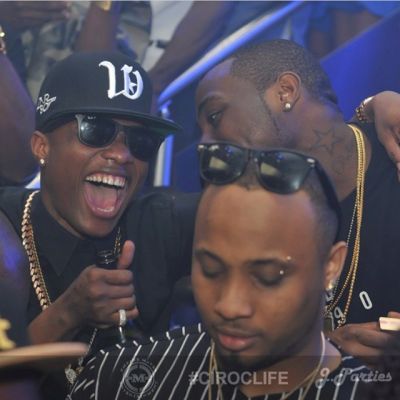 Our friends @36NG threw this question out to their readers some days back HERE . We want to know your answers to this question.
Over the past few years Davido and Wizkid have been the go-to artistes when their colleagues when to remix their songs. If the two aren't the ones on a remix, then a rapper is usually the man or Tiwa Savage.
With Davido scoring yet another remix with Orezi's latest single Shuperu and Wizkid having a barren music moment, we take a look at the past remixes the two have made so y'all can judge who is a better hit maker when it comes to remixing an original song.
1)
Ice Prince listed Wizkid on the remix of the superstar remix of his single Aboki. Wizkid laid his verse on the record and it enjoyed a decent airplay. His verse came second on the song after Sarkodie. How did the song fair? Did Wizkid transform the song to a hit?
Davido helped LKT turn his song Alaye into a club banger by laying a verse on the record. A definite hit in our book. Listen to Alaye remix below to refreshen your memory
2)
Wizkid came through on Chidinma's last hit song, Emi Ni Baller. The singer came first on the remix giving it a new vibe. The single did fairly but the original version is more remembered but it aided the popularity.
A well done remix we must say. Davido nailed Paper remix sending the original version to an early grave. The song came at the peak of the HKN star. Sheyman made sure his voice is heard clearly. He also came through on the song
3)
Davido feels like Diamond owes his career to him because since they recorded this song, the Tanzanian star has gone from a local champ to an African superstar… Sometimes you feel like Davido is asking for too much credit but indeed he killed this one. Diamond knows
4)
It is unknown if this was an official remix but Wizkid came through on You Garrit. The song was successful before the remix came to life so it is hard to tell the effect the Starboy chief had on the success of the song.
His verse is definitely worthy
YBNL starlet Lil Kesh scored a street hit with Davido on Shoki Remix. Davido did his part in making Shoki a mainstream dance routine following the success of his own dance step Skelewu.
Davido even claimed he made Shoki blow on Twerk featuring B-Red. He may be right.
5)
Kiss Daniel remixed his break out single (A move many artistes don't make) Woju and he featured go-to man, Davido.
Who is king of turning normal songs to hits through remixes? Davido or Wizkid? Cast your vote below

"Davido vs Wizkid: Who Is The King Of Remixes?", 5 out of 5 based on 1 ratings.
---