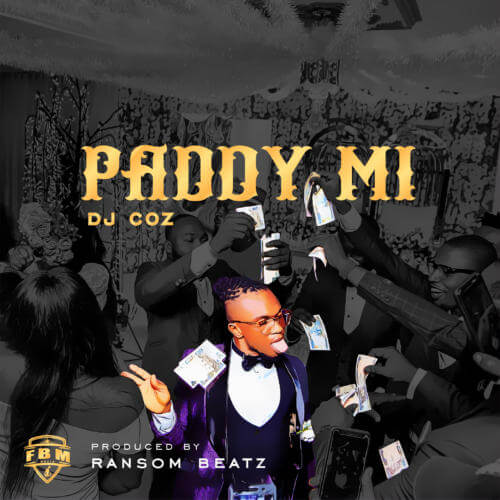 Nigerian based in Ghana act DJ Coz, FBM leader unleashed another inspirational song dubbed "Paddy Mi", just after 'I Do', which features his wife, that's currently making waves. The song was inspired after looking close to things happening as compared to Poverty and Riches, hustling and struggling to one earns meat.
"Paddy Mi" embodies the spirit of lyrics all can relate unto, that's wouldn't give you a doubt to listen to the words from the spitting voice of DJ Coz. The song was arranged and produced by Ransom Beatz.
Kindly Stream, Download and Enjoy, Don't forget to share with friends.
Cop on iTunes: https://apple.co/2IU6Q8t
CONNECT WITH HIM ON
Instagram – @djcozpondeck
Twitter – @djcozpondeck
LYRICS: DJ Coz – Paddy Mi (Produced by Ransom Beatz)
Told ya am multi genreDj Coz Again
Paddy mi
Ore mi
Egbon mi
Make money X2
Money no dey sleep oooh
If you sleep, you go spend am for dream ahey ahe
No body go wake you, when money dey come
Ore mi you just need to dey alert day or night ahe
When mi started hustling for this money
Nobody ever take me serious
Everyday dem dey post me here and there
Dem no want make I turnup
Now wey mi I don dey getti money
Everybody wanna link up
Now mi know say money bi the thing mi need fi this world
Money no be root of evil
If you talk am you just dey waist your time
What about poverty, how you wan take Classicfy that one ehhen
Make i no hear you talk am again
Say money is the root of evil
Poverty na the worst
Paddy mi
Ore mi
Egbon mi
Make money X2
Paddy mi
Ore mi
Egbon mi
Make this money
Paddy mi
Ore mi
Egbon mi
The money sure for us
We dey pray make God bless everybody
We dey pray, we dey pray, body
Make we buy everything wey we want
Anything wey need
All the ride wey we want
When we dey move
We go dey move in convoy
When we dey spray for party
Go dey spray well
Everybody just dey smileeeee
See shayo everywhereeee
Everybody just dey danceeee
Either na Zanku or Azonto
Paddy mi
Ore mi
Egbon mi
Make money X2
Paddy mi
Ore mi
Egbon mi
Make this money
Paddy mi
Ore mi
Egbon mi
The money sure for us X4
Told ya am multi genre
Dj Coz Again
Paddy mi
Ore mi
Egbon mi
Make money X2
Money no dey sleep oooh
If you sleep, you go spend am for dream ahey ahe
No body go wake you, when money dey come
Ore mi you just need to dey alert day or night ahe
When mi started hustling for this money
Nobody ever take me serious
Everyday dem dey post me here and there
Dem no want make I turnup
Now wey mi I don dey getti money
Everybody wanna link up
Now mi know say money bi the thing mi need fi this world
Money no be root of evil
If you talk am you just dey waist your time
What about poverty, how you wan take Classicfy that one ehhen
Make i no hear you talk am again
Say money is the root of evil
Poverty na the worst
Paddy mi
Ore mi
Egbon mi
Make money X2
Paddy mi
Ore mi
Egbon mi
Make this money
Paddy mi
Ore mi
Egbon mi
The money sure for us
We dey pray make God bless everybody
We dey pray, we dey pray, body
Make we buy everything wey we want
Anything wey need
All the ride wey we want
When we dey move
We go dey move in convoy
When we dey spray for party
Go dey spray well
Everybody just dey smileeeee
See shayo everywhereeee
Everybody just dey danceeee
Either na Zanku or Azonto
Paddy mi
Ore mi
Egbon mi
Make money X2
Paddy mi
Ore mi
Egbon mi
Make this money
Paddy mi
Ore mi
Egbon mi
The money sure for us X4