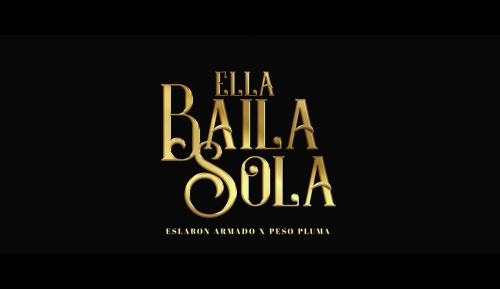 Here's the English and original Mexican Lyrics of Eslabon Armado & Peso Pluma's "Ella Baila Sola".
ELLA BAILA SOLA LYRICS (by Eslabon Armado, Peso Pluma)
Verse 1
Mate, what do you think of that girl?
The one dancing alone, I like her for myself
Beautiful, she knows she's hot
Everyone's watching her dance
I approach her and lay on the charm
We drink without reservations, just temptation
I told her, "I'm going to win over your family, and in a few days you'll be mine"
She said I'm crazy, but she likes that
No guy acts like me
Interlude: Pedro Tovar & Peso Pluma
Here you go, sweetheart
And all double P, man
Just like that, my buddy Pedro
All Eslabón Armado
For the young ladies
Cha-chau!
Verse 2
I'm not a guy with money
But when it comes to the heart, I fulfill everything for you
I held her hand tightly
My friend couldn't believe it, as I passed by
Her body, I swear to God, was so perfect
Her waist like a model's
Her eyes captivated me from the start
She liked me, and I like her
Compa, ¿qué le parece esa morra?
La que anda bailando sola me gusta pa' mí
¡Bella! Ella sabe que está buena
Que todos andan mirándola cómo baila
Me acerco y le tiro todo un verbo
Tomamos tragos sin peros, solo tentación
Le dije: "Voy a conquistar tu familia, que en unos días vas a ser mía"
Me dijo que estoy muy loco, pero le gusta
Que ningún vato como yo actúa
Y ahí te va, mija
Y pura Doble P, viejo
Así nomás, compa Pedro
Puro Eslabon Armado
Pa' las plebitas
¡Cha-chau!
No soy un vato que tiene varo
Pero hablando del corazón te cumplo todo
Me agarró pegadito d? su mano
Mi compa ni se la creyó, que al pasar fui yo
Su cu?rpo, juro por Dios, que era tan perfecta
Su cinturita como modelo
Sus ojos desde el principio me enamoraron
A ella le gusto y a mí me gusta