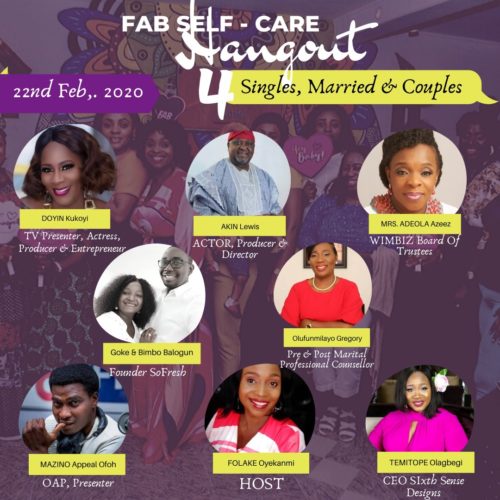 Are you single and hoping to start a relationship or courting soon?
Are you married and still don't understand your spouse or partner? Or you want to spice up your relationship?
Are you having issues managing relationships at your workplace, family or friends?
Are you engaged and even scared and want to get it right? Are you looking for having and maintaining general healthy and happy relationships?
This hangout is for you.. don't miss it. FAB Self – care hangout is a fun, relaxing, networking and informative hangout to learn from experts, special guests and celebrities in a nice restaurant at Ikeja GRA.
It is a must-attend event for singles and married that want to have a happy and healthy relationship. It will be a lunch date with about 50 PEOPLE with some celebrity guests and experts.
Meet one on one with our amazing celebrities and special guests:
Akin Lewis (Actor, Producer, Director), Mrs Adeola Azeez (seasoned banker,  WIMBIZ Board of Trustees) Mazino Appeal Ofor (OAP, presenter), Temitope Olagbegi (CEO SIxth Sense Limited), Goke and Bimbo Balogun.. (Founders So Fresh), Doyin Kukoyi (TV Presenter, Actress, Producer Entrepreneur), Olufumilayo Gregory (Professional Counsellor)
A fun and relaxing hangout to network and learn from experts about having healthy and happy relationships and practical self-care that works,
Enjoy amazing offerings from self-care establishments, businesses and companies
Food, drinks, dance, goodie bag, health check, photos and so much more
You will be Refreshed, Renewed, Revived!
Register now at https://events.familyaffairsblog.com , www.familyaffairsblog.com or call 08022228070 for INFO
First 50 seats ONLY!!!   Follow @familyaffairsblog
Don't miss it.
#familyaffairsblog #fabselfcarehangout #relationships #selfcareawareness #mentalawareness
https://events.familyaffairsblog.com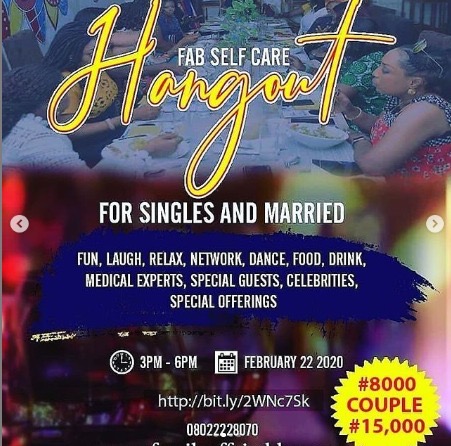 "Fab Self-Care Hangout 4 Singles, Married and Couples", 5 out of 5 based on 1 ratings.
---