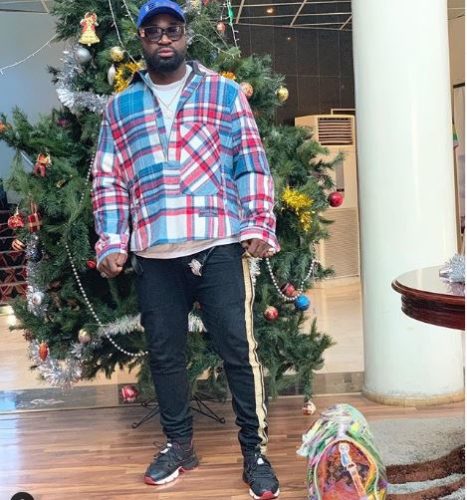 Nigerian singer, Harrysong has reacted after a Twitter user accused him of defending Hushpuppi who was arrested over internet fraud. 
Harrysongs had slammed Hushpuppi's close friends for unfollowing him on social media after he was arrested for fraud. He stated that they took such action without even hearing the full story.
However, a few days later, the Dubai Police released a video explaining the reason behind Hushpuppi's arrest. A Twitter user then accused the singer of supporting Hushpuppi and asked if he would still support him now that the full details of his fraudulent activities have been exposed.
Harrysong responded saying one should learn to read before criticizing. He explained that he wasn't supporting Hushpuppi but was against the way Hushpuppi's friends unfollowed him. He wrote: "Learn to read and understand first before u criticize, I was not just ok with the way people quickly started unfollowing him wen the news broke out, I learnt a lesson from it and thought to inspire others too, that was the post.Read, understand first , before u reply, comment, criticize, condemn or talk anyhow. Cus I ve noticed that 90% of young vibrant Nigerians on social media don't read, don't research , not good at all. Pls.
You know say this person na bad person, u know say your life no go progress in the long run if u support this person, but u go still hail this person, carry hands up call am presido because of 10k after the 10k finish u begin complain, ur mumu na how many %?
Learn to read and understand first before u criticize, I was not just ok with the way people quickly started unfollowing him wen the news broke out, I learnt a lesson from it and thought to inspire others too, that was the post. https://t.co/oMwB26bhl4

— HARRYSONG (@iammrsongz) July 2, 2020
Read, understand first , before u reply, comment,criticize ,condemn or talk anyhow. Cus I ve noticed that 90% of young vibrant Nigerians on social media don't read, don't research , not good at all. Pls.

— HARRYSONG (@iammrsongz) July 2, 2020
You know say this person na bad person, u know say your life no go progress in the long run if u support this person, but u go still hail this person,carry hands up call am presido because of 10k after the 10k finish u begin complain, ur mumu na how many %?

— HARRYSONG (@iammrsongz) July 2, 2020