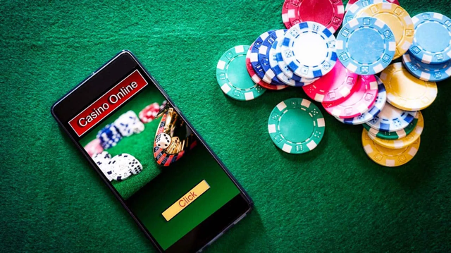 In regions such as the UK and Europe, iGaming and virtual sports betting have been able to thrive as a direct result of progressive regulatory measures.
In the UK, for example, the 2005 Gambling Act paved the way for exponential growth in the domestic market, creating a scenario where the sector has since fully matured and become a multi-billion pound entity.
The same cannot be said for the region of Nigeria, however, where demand and mobile penetration continues to outstrip the existing regulatory measures. So, while this list can help you to locate the best online casinos in Nigeria, guaranteeing a safe and rewarding experience remains an immensely challenging pastime.
In this post, we'll appraise the regulatory climate in Nigeria further, while asking how you can find the best online casinos in this location!
How is Off and Online Gambling Regulated in Nigeria?
When it comes to offline gambling in Nigeria, all activity is currently regulated by the National Lottery Regulatory Commission.
This authority gained recognition following the passing of the National Lottery Act of 2005, which actively distinguished between 'legal' games (namely lottery, land-based casinos and brick-and-mortar sports betting) and 'illegal' games (including roulette, dice games and non-skilled card games).
Currently, only licensed operators are able to offer and regulate slot machine activity, while there's also a provision made for anti-money laundering regulations laid out in the Money Laundering (Prohibition) Act 2011.
Of course, the iGaming market in Nigeria remains in its infancy, despite the rise of high-end smartphones in the region and exponential rises in mobile penetration.
Interestingly, smartphone penetration is set to grow by an estimated 60% by the year 2025 in the region, creating a significant opportunity for iGaming brands over the course of the next five years or so.
This certainly highlights the pressing need for Nigeria to enhance and refine its iGaming regulations, which are also overseen by the Nigerian Lottery Commission.
Currently, all iGaming brands and sportsbooks are required to obtain a license directly from the commission before launching their operations, while the lack of concise and considered regulations means that there's currently no restriction for people to wager through domestic or foreign gambling websites.
In fact, online gambling of any description is currently neither permitted or prohibited by law, aside from the illegal games already laid out as part of the aforementioned National Lottery Act.
At present, it's fair to say that large overseas brands such as Betway and 888.com dominate the Nigerian marketplace, with these entities often boasting multiple international licenses and considered to be more trustworthy than domestic operators.
Of course, this could change in the wake of clearer regulations and the subsequent expansion of the domestic market, but for now your iGaming experience in Nigeria will most likely involve established global brands.
What's the Key Criteria When Identifying the Best Online Casino in Nigeria?
With these points in mind, you should be able to start your search for a secure and rewarding iGaming brand in Nigeria.
Below, we've outlined some of the key criteria to keep in mind as a punter, while asking how you can inform your search and achieve the best possible outcomes?
1. Casino Licensing and Safety
Let's start with the basics; as you should never share your details or payment information with an online casino without ensuring that they're fully licensed and considered to be safe.
Even on a fundamental level, this means that the operator has met the licensing terms laid out by the Nigerian Lottery Commission (or another recognised and widely-respected regulatory body).
This is an interesting consideration, as while some compliant brands will boast accreditation from Nigeria's National Lottery Regulatory Commission, most international operators have yet to receive this and are instead allowed to trade in the region as a result of being licensed by an alternative regulatory body.
So, the very first thing that you should look for is some form of visible and recognisable accreditation on an operator's website, whether this takes the form of a Nigerian, Maltese or UKGC license.
Such accreditation can usually be found towards the bottom of the homepage, while you should also be able to access the relevant license number and the official head office address of the brand or parent company in question.
For example, the Betway brands boasts multiple iGaming licenses, having been verified by both the UK Gambling Commission and the Nigerian National Lottery Regulatory Commission.
However, similarly large and established brands such as 888 Casino and 777.com are able to operate in the Nigerian market simply by way of the UKGC accreditation, but the most important thing is that the company is fully regulated by a trusted and legitimate body.
Beyond this, you should also look beyond licensing towards each site's casino games, payments and website security, which also contribute towards your safety as an online punter.
For example, each site should publish a viable return-to-player (RTP) rate for each game (particularly slots), which should tally with the associated house edge and highlight how much a player can expect to recoup on average for every £1 wagered.
Each online casino should boast a minimum requirement of 128-bit SSL encryption, which is considered to be the industry standard in the financial services space and capable of safeguarding virtual transactions and sensitive fiscal information.
Ideally, a casino should also have had the fairness and operation of its games tested independently by a regulated auditor, with the market leading bodies including eCogra, TST and iTech Labs.
This ensures that each game is underpinned by RNGs and not unfairly fixed by casinos, and all major international brands should feature such accreditation.
2. Software and Mobile Gameplay
As the Nigerian marketplace has continued to benefit from a decidedly international influence, so too players have been able to access games from a variety of established software houses.
This includes iconic names like NetEnt, Evolution Gaming (which are renowned for their live casino titles), Play'n GO and Microgaming, so you should be able to enjoy a fun and immersive gambling experience at your chosen Nigerian casino.
However, the really good news is that you can compare such casinos and their individual games library, creating a scenario where you can inform your choice and prioritise operators based on the extent to which your favourite providers are represented.
So, once you've created a viable shortlist of safe and licensed Nigerian casinos, you can refine your search based on gameplay considerations such as the total number of games on offer and the teams behind them.
We've already touched on the proliferation of mobile casino gameplay in Nigeria, of course, so you may also want to prioritise operators based on their ability to deliver gaming on the go.
Just remember; not all online casinos offer native apps on iOS or Android (particularly as both the Google Play and Apple Stores have historically banned the publication of gambling apps).
This means that you should test a casino to ensure that it's easily accessible through a mobile browser such as Safari or Chrome, while checking to see if it can be navigated in both portrait and landscape mode.
3. The Quality and Accessibility of Customer Service
On a final note, it's also crucial that you appraise the quality and accessibility of customer support before choosing a Nigerian casino.
Of course, you may not think that this is a huge issue given the prominence of large brands in Nigeria, but there are certain considerations that help to inform and drive your decision.
For example, you should ideally prioritise casinos that offer a 24-hour live chat or contact number to customers, as these channels can be leveraged to resolve queries in real-time.
Sure, you'll need to ensure that the contact number is toll-free where possible, but such channels can be crucial when dealing with account management issues such as withdrawals.
Accessibility is also a key consideration, as operators may not make their customer support available in a large number of languages.
This is another reason to choose international or domestic operators in Nigeria (especially when travelling), as they'll typically offer support in a diverse range of languages including commonly spoken dialects such as English.
Still, we'd recommend reviewing potential casinos to see which languages they offer support in, while also reviewing the available customer service channels and their opening hours.

"How To Find The Best Online Casino In Nigeria?", 5 out of 5 based on 4 ratings.
---