Nigerian singer, Cynthia Morgan took her sweet time in changing a fan's perception.
A die-hard fan took to Twitter to sing praises of the controvesial singer. The unidentified fan tweeted;
"Cynthia Morgan is a genius"
The German Juice singer wasted no time in correcting the fan. Cynthia Morgan took a 360 turn in changing the thoughts of other fans who might be thinking in the same direction. According to her, she was once a genius.
See post below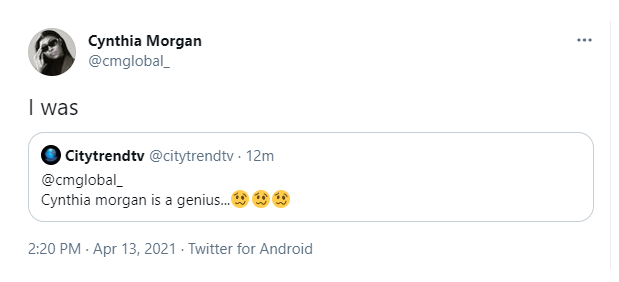 This isn't the first time Cynthia Morgan is making Headlines in connection to her controversial responses. Recall, last month, Cynthia trended on social media after calling out her family members, especially her mother for an unknown offense. According to Cynthia Morgan, "family is the root of all evil".