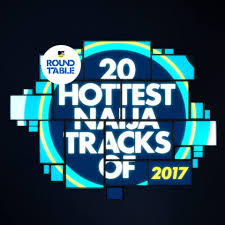 Popular entertainment platform, MTV Base set up a 9-man panel to select the top 20 hottest Nigerian tracks of 2017. The panel comprised of top professionals in the music industry including Ehiz, Dami Elebe of Beat FM, N6 of CoolFM, Joey Akan of Pulse NG, DJ Obi, Gbemi of Beat FM, Tosin Adeda, Mr Eze and CEO of Aloteda Blogzine, Adetola Adekoya aka Omobaswagz.
After intense deliberations and analysis were made, the panel settled for a list of 20 hottest Nigerian tracks. The hottest Naija songs according to the MTV Base panel includes:
IF – Davido
Penalty – Small Doctor
Mad Over You – Runtown
Iskhaba – DJ Tunez X Wande Coal
Juice – YCEE
Wo! – Olamide
Come Closer – Wizkid
Leg Over – Mr. Eazi
Fall – Davido
Yeba – Kiss Daniel
Rara – Tekno
Maradona – Niniola
Pepper Dem Gang – Olamide
Mama – Mayorkun
Gaga Shuffle – 2Baba
Joromi – Simi
All Over – Tiwa Savage
Living Things – 9ice
Temper (Remix) – Skales ft. Burna Boy
Pass The Agbara – Skuki
See post below.
#MTVBaseHottestNaijaTracks | The Big ONE. The 30 BILLION GANG ! Congratulations to @iam_Davido's IF on being the hottest Naija Track of the year!@SpecialSlim@DamiElebe @Omobaswagz @DjObiAjEnt @N6OFLIFE @iamEZE @GbemiOO @joeyakan @tosinadeda DSTV 322 pic.twitter.com/B2bRWpApHR

— MTV Base West (@MTVBaseWest) 15 December 2017
#MTVBaseHottestNaijaTracks || With that said, congratulations to @iam_smalldoctor's Penalty on being selected as No 2 @DamiElebe @Omobaswagz @DjObiAjEnt @N6OFLIFE @iamEZE @GbemiOO @joeyakan @tosinadeda pic.twitter.com/kz1rg6JF0j

— MTV Base West (@MTVBaseWest) 15 December 2017
#MTVBaseHottestNaijaTracks || Who are you Mad Over?? Congrats to @iRuntown on being selected as No 3 @DamiElebe @Omobaswagz @DjObiAjEnt @N6OFLIFE @iamEZE @GbemiOO @joeyakan @tosinadeda pic.twitter.com/6uaTybk6F7

— MTV Base Africa (@MTVBaseAfrica) 15 December 2017
#MTVBaseHottestNaijaTracks || Wande Coal and @DJ_TUNEZ in at no 4, locked in ??- ISKABA!!@Omobaswagz @DjObiAjEnt @N6OFLIFE @DamiElebe @iamEZE @GbemiOO @joeyakan @tosinadeda pic.twitter.com/ZZ8hLN6MSL

— MTV Base Africa (@MTVBaseAfrica) 15 December 2017
#MTVBaseHottestNaijaTracks || Congrats to @iam_YCEE's Juice on being selected as No 5 @Omobaswagz @DjObiAjEnt @N6OFLIFE @DamiElebe @iamEZE @GbemiOO @joeyakan @tosinadeda pic.twitter.com/UrQ9FWlyfd

— MTV Base Africa (@MTVBaseAfrica) 15 December 2017
#MTVBaseHottestNaijaTracks || @olamide_YBNL – Wo'ing them at No 6 ??@Omobaswagz @DjObiAjEnt @N6OFLIFE @DamiElebe @iamEZE @GbemiOO @joeyakan @tosinadeda pic.twitter.com/hzAS0Ozc6s

— MTV Base Africa (@MTVBaseAfrica) 15 December 2017
#MTVBaseHottestNaijaTracks || @wizkidayo – Come Closer at no 7 ??@Omobaswagz @DjObiAjEnt @N6OFLIFE @DamiElebe @iamEZE @GbemiOO @joeyakan @tosinadeda pic.twitter.com/hpKOCxmmAp

— MTV Base Africa (@MTVBaseAfrica) 15 December 2017
#MTVBaseHottestNaijaTracks || @mreazi – Leg Over at no 8 ??@Omobaswagz @DjObiAjEnt @N6OFLIFE @DamiElebe @iamEZE @GbemiOO @joeyakan @tosinadeda pic.twitter.com/NNCN805tP9

— MTV Base Africa (@MTVBaseAfrica) 15 December 2017
#MTVBaseHottestNaijaTracks | @iam_Davido 's – Fall, the 9th biggest song of 2017 as decided by @DjObiAjEnt @N6OFLIFE @DamiElebe @iamEZE @GbemiOO @joeyakan @tosinadeda @Omobaswagz pic.twitter.com/jMm3StPn3I

— MTV Base West (@MTVBaseWest) 15 December 2017
.@iamkissdaniel's – Yeba locked in at No 10 on the #MTVBaseHottestNaijaTracks pic.twitter.com/rsd7xukAFP

— MTV Base West (@MTVBaseWest) 15 December 2017
#MTVBaseHottestNaijaTracks || @alhajitekno's RARA sits at no 11 on The first part of the Roundtable.

Tune in same time tomorrow as www reveal top 10 with @DjObiAjEnt @N6OFLIFE @DamiElebe @iamEZE @GbemiOO @joeyakan @tosinadeda @Omobaswagz???
What's your list???? pic.twitter.com/QvK6QfXeAA

— MTV Base West (@MTVBaseWest) 14 December 2017
#MTVBaseHottestNaijaTracks || @OfficialNiniola – Maradona ??? No 12

Conversation continues tomorrow same time 16:00 WAT on #MTVBaseCh322 with our panelists @DjObiAjEnt @N6OFLIFE @DamiElebe @iamEZE @GbemiOO @joeyakan @tosinadeda @Omobaswagz pic.twitter.com/YINwsGLjPA

— MTV Base West (@MTVBaseWest) 14 December 2017
#MTVBaseHottestNaijaTracks || While we prepare for #OLIC4, @olamide_YBNL's Pepper Dem bangs at No 13 pic.twitter.com/fEFeFnK4Cx

— MTV Base West (@MTVBaseWest) 14 December 2017
The #MayorOfLagos Mayorkun will be giving them MAMA today at his event. Locked in at no 14 on the #MTVBaseHottestNaijaTracks of 2017 ??? pic.twitter.com/usmGTR8fjK

— MTV Base West (@MTVBaseWest) 14 December 2017
#MTVBaseHottestNaijaTracks || @official2baba's Gaaga Shuffle at no 15 ? pic.twitter.com/hpULZDTpmY

— MTV Base West (@MTVBaseWest) 14 December 2017
#MTVBaseHottestNaijaTracks || The argument day kampe but @SympLySimi did make it to no 16 with Joromi pic.twitter.com/oO4jeseDXS

— MTV Base West (@MTVBaseWest) 14 December 2017
#MTVBaseHottestNaijaTracks || @TiwaSavage is All Over at No 17

Conversation continues tomorrow same time 16:00 WAT on #MTVBaseCh322 with our panelists @DjObiAjEnt @N6OFLIFE @DamiElebe @iamEZE @GbemiOO @joeyakan @tosinadeda @Omobaswagz pic.twitter.com/uHY2lEEZk4

— MTV Base West (@MTVBaseWest) 14 December 2017
#MTVBaseHottestNaijaTracks || 18 – @Iamancestor – Living Things pic.twitter.com/ytZaA63tAx

— MTV Base Africa (@MTVBaseAfrica) 14 December 2017
#MTVBaseHottestNaijaTracks || At no 19, we have @youngskales's Tempre Remix ft @burnaboy pic.twitter.com/IkvuhkOGIk

— MTV Base West (@MTVBaseWest) 14 December 2017
#MTVBaseHottestNaijaTracks || Coming in at No 20 – @Skukipeeshaun @skukivavavoom – Pass The Agbara pic.twitter.com/na4ibC0cxm

— MTV Base West (@MTVBaseWest) 14 December 2017