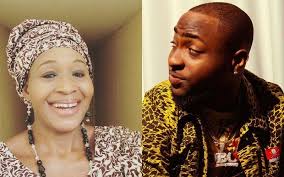 Controversial Nigerian journalist, Kemi Olunloyo has dragged ponce again dragged Davido and this time, its for killing three of his friends and lying about his coronavirus tests.
In a series of tweets, Kemi alleged that the risky singer killed three of his friends and even went as far as lying about his Coronavirus tests. She stated that he posted about having the coronavirus but then deleted it in seconds and pushed it to his baby mama, Chioma. She also added that those that might have come in contact with the singer or any of his crew might be asymptomatic as he was actually infected by the virus.
You killed your three friends, Your state's first 3 Corona deaths were your 2 drivers and a contact. You posted on Snap that you have #Covid19 then deleted it in seconds, pushing it to your baby mama. Living an imaginary life is sure rugged. Marriage my ass.Just watched a Davido video serving a gateman left over hotel food. Pls when you finish eating at Eko hotel tell them to package your tray of crumbs properly. You shouldn't have transferred that food to him and even videotape that shit. Go feed your starving fans.
Shebi #Covid19 is not a death sentence. Why lie? Davido was not taking care of no baby during Chioma's isolation. They were both in treatment. The baby could no longer breastfeed and 4 team members were all infected. I warned him not to fly private jets 6 mos.Wishing the Adelekes and Dokpesi clan and staff good health. When you are in #Covid19 recovery, the last thing you should be doing is sharing food that you don't know it's source publicly. Gateman had no mask or gloves on, has to open and close gates. I'm sure they feed him daily
If u had contact with David or his team chances are u may be asymptomatic walking around with CORONAVIRUS. One person infects 10, 10 infects 1000. Davido clearly told you his second test was negative when he was discharged. U didn't pay attention. Nobody uninfected does 2 tests. So y'all upset I "blasted" Davido abi for feeding his gateman leftover tray of food. I fed my gateman for Eid. Sorry O! But I think all of you are daft fools. I could film Musa too but I'm not obsessed about Adeleke. I'm a Journalist and social critic and doing my work
You killed your three friends, Your state's first 3 Corona deaths were your 2 drivers and a contact. You posted on Snap that you have #Covid19 then deleted it in seconds, pushing it to your baby mama. Living an imaginary life is sure rugged. Marriage my ass.#Kemitalks

— Medical Journalist Dr. Kemi Olunloyo (@KemiOlunloyo) May 25, 2020
Just watched a Davido video serving a gateman left over hotel food. Pls when you finish eating at Eko hotel tell them to package your tray of crumbs properly. You shouldn't have transferred that food to him and even videotape that shit. Go feed your starving fans #Kemitalks

— Medical Journalist Dr. Kemi Olunloyo (@KemiOlunloyo) May 25, 2020
Shebi #Covid19 is not a death sentence. Why lie? Davido was not taking care of no baby during Chioma's isolation. They were both in treatment. The baby could no longer breastfeed and 4 team members were all infected. I warned him not to fly private jets 6 mos #kemitalks

— Medical Journalist Dr. Kemi Olunloyo (@KemiOlunloyo) May 26, 2020
Wishing the Adelekes and Dokpesi clan and staff good health. When you are in #Covid19 recovery, the last thing you should be doing is sharing food that you don't know it's source publicly. Gateman had no mask or gloves on, has to open and close gates. I'm sure they feed him daily

— Medical Journalist Dr. Kemi Olunloyo (@KemiOlunloyo) May 26, 2020
If u had contact with David or his team chances are u may be asymptomatic walking around with CORONAVIRUS. One person infects 10, 10 infects 1000. Davido clearly told you his second test was negative when he was discharged. U didn't pay attention. Nobody uninfected does 2 tests

— Medical Journalist Dr. Kemi Olunloyo (@KemiOlunloyo) May 26, 2020
So y'all upset I "blasted" Davido abi for feeding his gateman leftover tray of food. I fed my gateman for Eid. Sorry O! But I think all of you are daft fools. I could film Musa too but I'm not obsessed about Adeleke. I'm a Journalist and social critic and doing my work #kemitalks

— Medical Journalist Dr. Kemi Olunloyo (@KemiOlunloyo) May 26, 2020
---