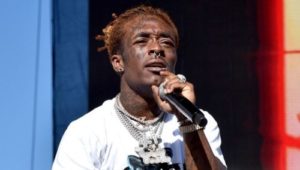 The wait for Uzi's album; "Eternal Atake" is real, but given the rapper's track record, it's still unclear if the project will see the light of day this year.
Lil Uzi Vert has been preparing for the album's release throughout 2018. Don Cannon even said that we'd be getting it before the year ends which was clearly false.
However, it looks like worse news has come from the world of Lil Uzi Vert. The rapper announced his departure from music today.
Whether the album drops this year or not remains a mystery, but there seems to be another factor that might delay its process.
Lil Uzi Vert announced on Instagram that he's "done with music." The rapper thanked his fans for their love and support over the years but said that he wanted to be normal again, wishing he could wake up in 2013.
"I wanna take the time out to say I thank each and every one of my supporters but I'm done with music I deleted everything I wanna be normal," he wrote. "I wanna wake up in 2013."
He added at the bottom of the post, "You are free."
There is a possibility that tensions with his record label could be what has made him take the decision.
He's been vocal all along about the issues he's been having with his record label and he often talks about it on other artiste's songs that he's featured on.
We just hope this is a joke or stunt or whatever!
---