Mr Eazi Patek Lyrics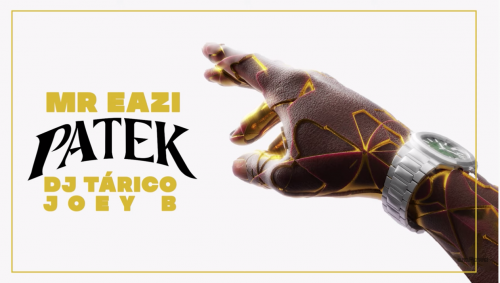 Patek Lyrics, Song Written by Mr Eazi and Joey B, Produced by DJ Tarico.
Mr Eazi has shared "Patek," his new single featuring DJ Tárico (Mozambique) and Joey B (Ghana). The pan-African banger is Mr Eazi's first dive into amapiano, the genre that's exploded out of South Africa's dance music underground to become a global phenomenon recently.
PATEK LYRICS
Mr Eazi
Any money wey I get I dey flex
I dey ball You dey vex I dey shop Patek
Shey you see flyboy in the jet My baby my pet
Shey na pussycat
See back, see the yansh Free pass, me be that
She go whine am well when she see the cash Cash (cash)
Cash (cash) Cash
Sing it
Cash (go go) Cash (ga ga) Cash
She go whine am well when she see the cash
Let's go Yenko Aba
Go go Sing it Sing it
Cash Cash
Joey B
Yea yea
Comment tu t'appelle Je m'appelle
Comment tu t'appelle Je m'appelle
Any money wey i get Flenjo
Money i dey count Census
Hot girls Mentos
I dey ** well well Censor
She go whine am when she see the cash If i Hushpuppi
She go fit detach
If i hide the money she go see the cash
Bend down well when you see the cash Let's go
Cash Yenko Cash Aba Cash Go go Cash
Sing it (Cash) Sing it (Cash)
Bend down well when you see the cash Let's go
Yenko Aba Gogo Sing it Sing it Cash Cash
I dey flex ehn Let's go
Yenko Aba Gogo Sing it Sing it Cash Cash
Let's go Yenko Aba Gogo Sing it Sing it Cash Cash
She go whine am well when she see the cash
Any money wey i get I dey flex
Common tu ta pel Je m'appelle
Any money wey i get I dey flex
Comment tu t'appelle
Je m'appelle
Let's go Yenko Aba Gogo Sing it Sing it Cash Cash
Let's go Yenko Aba Gogo Sing it Sing it Cash Cash
I dey flex