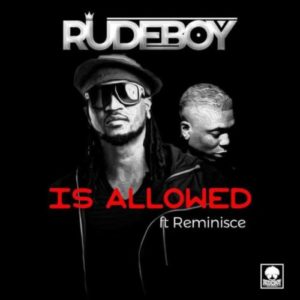 Rudeboy ft. Reminisce – Is Allowed Lyrics

Runtinsu boy
Rude'
They dunno, Ibile

Girl, I no fit wait oh
Gimme fire make e blaze oh
Make e blaze oh
I go change the game oh
I not fit shout cos we no be mate oh
We no be mate oh
Back it up, give it up
Do me some tugudum
Mash it up, Rude'
Back it up, give it up
Do me some tugudum
Mash it up

Mo ni k'e keep on rocking
Is Allowed, Is Allowed
E sa ma jijo daddy
Is Allowed, Is Allowed
Mo ni k'e keep on rocking
Is Allowed, Is Allowed
E sa ma jijo daddy
Is Allowed, Is Allowed

Go! Down down down down…

As I dey craze, you dey display
I no fit doubt you
Now I know the things you
do when am not around you
I go buy you something, bae
Do you something, eh eh ehh
I no fit shout oh, eh
We no be mate oh, ehh
Back it up, give it up
Do me some tugudum
Mash it up, Rude'
Back it up, give it up
Do me some tugudum
Mash it up

Mo ni k'e keep on rocking
Is Allowed, Is Allowed
E sa ma jijo daddy
Is Allowed, Is Allowed
Mo ni k'e keep on rocking
Is Allowed, Is Allowed
E sa ma jijo daddy
Is Allowed, Is Allowed

Go! Down down down down…

Uhh, Ibile!
Level wa n'le bi iyepe- 'yepe
Paralyse e, so d'efo tete- tete
Denge wo'nu club pelu kembe- kembe
Wakati kan pere, mi o ni pe n'be- pe n'be
This your fala-fala and your folo-folo
put you in trouble with my big kokoro
K'a ma keep on rocking, k'o ma jo bi okoto
Shaku Shaku t'o jo, ejo, won ni ko to- yeh!
Before before, won ni na 1 no be 2
But lowo yi, won ni na 2 no be 1
Your bobbi is 2 and my kini is 1
Je k'a lepo my dear, k'a so'ra wa di 1
K'a ma skibobo, k'a jo ma ropopo
K'a ba pari, k'a ma rin lo lototo
Rudeboy soft, 'Aga soft
Felele ni'seyen se, oya soft!

Girl, I no fit wait oh "Ibile!"
Gimme fire make e blaze oh
Make e blaze oh
I go change the game oh
I not fit shout cos we no be mate oh
We no be mate oh
As I dey craze, you dey display
I no fit doubt you
Now I know the things you do when am not around you
I go buy you something, bae
Do you something, eh eh ehh
I no fit shout oh, eh
We no be mate oh, ehh
Back it up, give it up
Do me some tugudum
Mash it up, Rude'
Back it up, give it up
Do me some tugudum
Mash it up

Mo ni k'e keep on rocking
Is Allowed, Is Allowed
E sa ma jijo daddy
Is Allowed, Is Allowed
Mo ni k'e keep on rocking
Is Allowed, Is Allowed
E sa ma jijo daddy
Is Allowed, Is Allowed
Mo ni k'e keep on rocking
Is Allowed, Is Allowed
E sa ma jijo daddy
Is Allowed, Is Allowed
Mo ni k'e keep on rocking
Is Allowed, Is Allowed
E sa ma jijo daddy
Is Allowed, Is Allowed

Go! Down down down down…

Ibile! Ah ah
O wa n'le bi iyepe
Ruhuhuuu
Normal level
Rude Boy
Skukodukos, ah ah
==Ehnehn, DotGuy on the beat==
Je'on mo!
Rude', they dunno