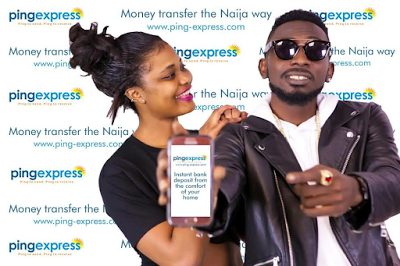 May D, recently scored himself a new deal with Ping Express.
The  singer now a brand ambassador for the money transfer platform is to help preach its low cost online money transfer to Africans in diaspora.
On his new deal, May D said:
"It's a pleasure to be part of the Ping Express brand and help champion the good work they're doing to make sending money home faster and convenient. Supporting family back home is top of mind to Africans in diaspora, and I've been amazed by how instrumental Ping Express has been in helping them achieve this goal and also save them some money." 
Anslem Oshionebo, CEO of Ping Express had this to say about the singer:
"May D is an inspiration to millions of Africans at home and abroad, he's the perfect ambassador for us. Like so many of our customers, he worked hard and overcame some major obstacles to find success. It's very clear that he holds the same values as we do and I'm honored that he's working with us." 
May D who became the first Nigerian artiste signed by Paul and Peter Okoye of Psquare fame, exited the label back in 2012.
First speaking on his type of music with Daily post back in 2013, the 'Ijo Ya' crooner said:
I will categorize my type of music as pop/R&b. At the moment, I have a number of singles. I had my first singles, ''Cool Temper'' and ''Soundtrack' in 2011 to an appreciative level of positive reviews from the industry insiders.
On his relationship with Psquare after the split, May D said:
My relationship with Peter and Paul is still very cordial. We owe nothing against each other. It was only time for me to just be on my own. I saw that it was time to begin to direct my own ship; aside that, nothing personal.

"May D Bags New Endorsement Deal", 5 out of 5 based on 1 ratings.
---