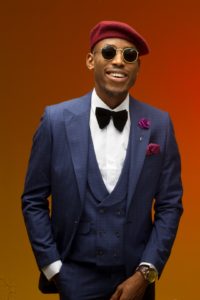 Mr. 2Kay's recently released single titled 'Banging', on which he featured Reekado Banks, has been enlisted in UK's Top 20 Urban Club Chart.
'Banging' is the lead single off the singer's recently released 'ELEVATED' album and it has since traveled as far as the United Kingdom where it debuted at the 18th slot on the country's Top 20 Urban Club Chart.
The singer who recently rounded up his UK media tour is expected to return to the country to conclude plans for his 'Elevated Concert' which is scheduled to hold on June 17 at Aztech Arcum, Stadium Road, Port Harcourt. The concert is expected to bring him closer to his native fans.
According to LIB, The Top 20 UK Urban Club Chart is a weekly compilation of the most played songs across various clubs in the UK from the previous week. It is also rated as the UK's version of Bill Board Charts.
See full list below.
1. "Top Off" – DJ Khaled ft. Jay Z, Future and Beyonce (Black Butter/We the Best Music)
2. "What I Wanna" – MoStack (Virgin Records)
3. "Check" – Kojo Funds ft. Raye (Atlantic Records)
4. "Premonition" – FooR ft. Eddie Craig (Yosh Music)
5. "Make Me Feel" – Janelle Monae (Bad Boy Records)
6. "Man Down" – Shakka ft. Aluna George (Parlaphone Records)
7. "Freaky Friday" – Lil Dicky ft. Chris Brown (BMG/Commission)
8. "1,2,3" – Sofia Reyes ft. Jason Derulo & Da La Ghetto (Warner Bros)
9. "Rapper" – Hardy Caprio (Virgin)
10. "God's Plan" / "Diplomatic Immunity" – Drake (Cash Money / Republic)
11. "No One Else" – Amir (Amslice)
12. "Proud" – 2 Chainz ft YG & Offset (Def Jam)
13. "Fine Line" – Mabel ft. Not3s (Polydor)
14. "Pray For Me" – The Weeknd & Kendrick Lamar (Interscope/Republic/XO
15. "Mind On It" – Yungen ft Jess Glynne (RCA)
16. "Be Careful" – Cardi B (Atlantic Records)
17. "Walk It, Talk It" – Migos ft. Drake (Motown/Quality Control Music)
18. "Banging" – Mr. 2Kay ft. Reekado Banks (Grafton Records)
19. "Wavey" – Cliq ft Alika (Columbia Records)
20. "Savior" – Iggy Azalea ft. Quavo (Island Records)